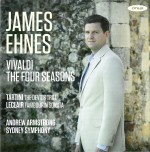 Our own James Ehnes is back with a CD of early 18th century works on Vivaldi Four Seasons (Onyx 4134), with his regular partner Andrew Armstrong at the piano for Tartini's Devil's Trill Sonata and Leclair's Tambourin Sonata, and the Sydney Symphony under Ehnes' direction providing the support for the title work. It's the first time Ehnes has recorded The Four Seasons, and it was certainly worth the wait. The playing is everything you would expect from him: it's warm, intelligent and beautifully judged, with sensitive and very effective orchestral accompaniment.
The Tartini and Leclair sonatas are the opening works on the CD, with Ehnes using the Kreisler edition of the Devil's Trill sonata that ends with the challenging cadenza that Kreisler added to the work. Again, the playing by both performers is outstanding.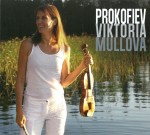 Another Onyx CD features live concert recordings of violin music by Sergei Prokofiev in terrific Frankfurt performances by Viktoria Mullova (ONYX 4142). The Frankfurt Radio Symphony Orchestra under Paavo Järvi provides the support in the lovely Concerto No.2 in G, Op.63, recorded over two days in May 2012. Mullova is equally at home in the work's beautiful slow movement and in the music's spikier passages.
Prokofiev's two unaccompanied violin sonatas – the Sonata for Two Violins in C, Op.56 and the Solo Violin Sonata in D, Op.115 – were recorded in December 2014. Tedi Papavrami joins Mullova in the former. The recorded ambience is full and resonant, especially in the concerto, and there is no real sign of audience presence other than the applause at the end of the works, which fades out after a few seconds.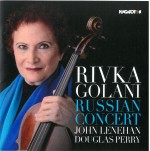 There's more live Prokofiev, as well as Shostakovich and Rachmaninov on Russian Concert, a 2-CD recording of the March 28, 2006 concert in Toronto's Glenn Gould Studio by the outstanding violist Rivka Golani and pianist John Lenehan (Hungaroton HCD 32743-44). The concert opens and closes with pieces (six on CD1, five on CD2) from Prokofiev's ballet Romeo and Juliet, transcribed for viola and piano, with the composer's permission, by the Russian violist Vadim Borisovsky. Violist Douglas Perry joins Golani and Lenehan for the final two pieces.
CD1 ends with a brooding performance of the Shostakovich Sonata for Viola and Piano Op.147, the only work in the concert in its original form, but the heart of the recital is the transcription – again by Borisovsky – of Rachmaninov's Cello Sonata in G Minor Op.19. More than anything else on the two CDs this brings impassioned playing from both performers, with the piano often predominant in a role that is far from being merely an accompaniment. Despite the wonderful viola playing, however, it's difficult to ignore the fact that the instrument's pitch is higher and somewhat thinner than the cello's, and the absence of the latter's strength, depth and richness, particularly in the lower strings, alters the tonal relationship with the piano; at times here, the music just seems to be too big for the instrument. Still, what a performance!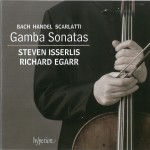 The ever-reliable English cellist Steven Isserlis is back with yet another delightful CD, this time with harpsichordist Richard Egarr on Bach, Handel and Scarlatti Gamba Sonatas (Hyperion CDA68045).
Bach's three sonatas – in G Major BWV1027, D Major BWV1028 and G Minor BWV1029 – are programmed around Domenico Scarlatti's Sonata in D Minor Kk90 and Handel's Violin Sonata in G Minor HWV364b. The Handel here relies on an authentic manuscript version that shows the opening of the violin part lowered an octave and indicated as for viola da gamba. In this work and the Scarlatti the players are joined by Robin Michael on cello continuo.
Isserlis points out that playing with a harpsichord allows him "to play as lightly as possible without ever courting inaudibility," and the result is playing of grace, lightness and warmth. Add the usual intelligent and insightful booklet notes written by Isserlis in his inimitable style – he even quotes Spinal Tap's Nigel Tufnel at one point – and the whole package is another winner.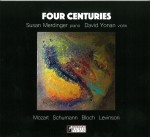 The often-asked question "How could I not have heard them play before?" raised its head again this month when I played Four Centuries, a new CD from pianist Susan Merdinger and violinist David Yonan featuring works by Mozart, Schumann, Bloch and the Chicago-based contemporary composer Ilya Levinson (Sheridan Music Studio susanmerdinger.org). Both players have impressive résumés, but the Berlin-born Yonan made his recital debut in Berlin, Moscow and St. Petersburg at the age of 11. He also studied with the legendary Dorothy DeLay at Juilliard. He has impeccable technique, a sumptuous tone and a real depth to his playing.
A lovely performance of Mozart's Sonata No.13 in B-flat Major, K454 opens the disc, with the fine balance between the instruments reminding us that the work was written as being "for Piano and Violin."
Schumann's Sonata for Violin and Piano No.1 in A Minor, Op.105 is also beautifully played, but it is the 20th century work, Bloch's Suite Hébraïque that really steals the show here. "It is the Jewish soul that interests me," said Bloch, and it's that soul which is at the heart of this three-movement suite and given a brilliant realization by Yonan. It's stunning playing.
The final work is the world premiere recording of Levinson's Elegy: Crossing the Bridge, a short piece dedicated to David Yonan, who gave the world premiere in Chicago in 2011. Susan Merdinger is a terrific partner throughout a highly satisfying CD.
Three of the great Czech string quartets are featured on Janáček & Smetana String Quartets, the latest CD from the Takács Quartet (Hyperion CDA67997). All three works, while being strongly nationalistic, are also intensely personal.
Smetana openly admitted that his Quartet No.1 in E Minor, From My Life, was a tone picture of his life: the first movement is his youthful yearnings; the second the dance music of his youth; the third his first love – his future wife, whom he would lose to tuberculosis; and the fourth his joy in incorporating nationalism in his mature music, a joy that would be terminated by his growing deafness, represented in the score by the sudden ominous high E harmonic pitch that sounded in the composer's ear. It's obvious from the passionate opening that this will be a rewarding performance, and it never disappoints.
Janáček's two quartets, subtitled The Kreutzer Sonata and Intimate Letters, were both written late in his life, when he had found his decidedly individual voice and was experiencing a late surge in his career. In particular, he was deeply involved in an intensely passionate – though essentially unrequited – friendship with the young Kamila Stősslová, and the second quartet specifically represents events in Janáček's relationship with her; despite his age, it's full of the passion and yearning of a youthful man.
The performances of both works here are all that you could want them to be.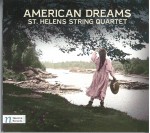 American Dreams is the title of a lovely new CD from the St. Helens String Quartet (Navona Records NV6004) as well as the subtitle of the opening work, Peter Schickele's String Quartet No.1 from 1983.
Schickele, who turned 80 this year, has enjoyed a long career as a composer and performer when not busy with his alter ego P.D.Q. Bach. This quartet, the major work on the CD, is beautifully written, moving in an arch from an Appalachian start through jazz, blues and fiddle styles and a Navajo song back to the dulcimer-like Appalachian tune from the opening.
Ken Benshoof (born 1933), Bern Herbolsheimer (born 1948) and Janice Giteck (born1946) are the other composers, represented by a variety of short works. Benshoof's Swing Low from 2004 is eight views of the famous spiritual, and his Remember is a nostalgic sketch from 1977. His Diversions from 2005 – six pieces in various moods, including Blue Grass and Raggedy Blues – are for violin and piano, with pianist Lisa Bergman providing the accompaniment.
Botanas, Herbolsheimer's five-movement work from 2008, is named for the appetizers served in Mexican bars and cafes. The two pieces by Giteck are Ricercare (Dream Upon Arrival) from 2012 and Where can one live safely, then? In surrender, written for the St. Helens Quartet in 2005. There is nothing here that is hard to assimilate, and a great deal that is thought-provoking and highly enjoyable. The playing throughout is warm and idiomatic, the recording quality excellent.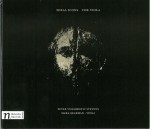 Also from Navona Records is Feral Icons, a suite of six movements for solo viola by Peter Vukmirovic Stevens performed by Mara Gearman (NV6008). The work was written for Gearman in 2013-14, and according to the very sparse booklet notes employs Stevens' signature sound of extended tonality and isometric rhythms.
To be honest, I'm not quite sure what that means in this particular context. We're told that Stevens, who studied with Bern Herbolsheimer among others, has a compositional approach that strips away the extraneous to reveal simplicity, and certainly the writing here seems to be mostly tonal and quite accessible, with a fairly standard use of the instrument. There's not a great deal of dynamic, rhythmic or tonal range though, and Gearman's vibrato never seems to vary much. Still, she's more than up to any technical challenges the work presents.
Judging by the number of cello ensembles around these days, cellists must love company. Vibrez is the first release on the UK's Edition Classics label by the London-based cello octet Cellophony (EDN1047), featuring a program of nine arrangements by octet member Richard Birchall and one original composition. The eclectic list includes Wagner's Prelude to Act 1 of Tristan und Isolde, three Schubert songs, Liszt's La Lugubre Gondola, Wieniawski's Scherzo-Tarantelle (in a particularly dazzling performance), Mendelssohn's Ave Maria, a Bach Prelude and Barber's Adagio Op.11, the famous "Adagio for Strings." The original composition Violoncelles, Vibrez! by the contemporary Italian composer and cellist Giovanni Sollima completes a charming and entertaining disc.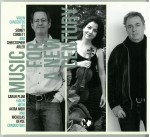 Music for a New Century is a new and intriguing CD of Violin Concertos by the American composers Sidney Corbett and Christopher Adler, performed by Sarah Plum (Blue Griffin Recording BGR371).
The Chamber Music Midwest Festival Orchestra under Akira Mori joins Plum in a live recording of Corbett's Yaël at its June 5, 2011 North American premiere in Wisconsin, while Nicholas Deyoe conducts San Diego New Music in the world premiere of the Adler concerto, commissioned by Plum specifically to pair with the Corbett on this CD release.
While both works are clearly very strong neither is an easy first listen, with a good deal of unrelenting toughness that tends to act like a suit of emotional armour, keeping you at bay. Plum, however, calls them "beautiful, original and quite striking," and says that she is "confident that they will enter the repertoire and be played for many years to come." I really hope she's right, but I won't be putting any money on it; these are works that are not immediately audience friendly in the traditional sense, even on repeated hearings, and might prove difficult to program.
Mind you, it's difficult to imagine a better flag bearer for them than Sarah Plum, who is quite brilliant here, or better performances or recordings. This is still an indispensable addition to the contemporary American violin concerto discography.