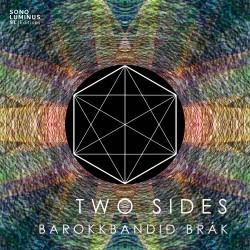 Two Sides
Barokkbandið Brák
Sono Luminus SLE-70026/2 (sonoluminus.com)
It is not uncommon to find obvious and straightforward album titles within the classical music genre, leaving no doubt as to what a listener can and should expect. If one tallied up all the releases titled Beethoven: The Nine Symphonies, these recordings would make up an entire collection of their own. While it is only an entry point to the contents contained therein, a creatively titled recording can engage and entice a prospective listener, drawing them in with the promise of a unique artistic experience.
Such is the case with Icelandic period-instrument ensemble Barokkbandið Brák and their debut album Two Sides, a title which, at first glance, most clearly refers to its two discs of music. Upon reviewing its contents however, it becomes clear that Two Sides reflects the diverse nature of this extraordinary group, which has achieved renown in the interpretation of Renaissance and Baroque music but also as a commissioner of new music for period instruments.
This sense of discovery in music old and new permeates every selection on this recording, notably through the world premiere recording of the Violin Concerto in G by Swedish Baroque composer Johan Joachim Agrell and new commissions from Icelandic composers Þráinn Hjálmarsson, Bergrún Snæbjörnsdóttir, and Kristinn Kristinsson.
What is most remarkable about this entire double album is the way in which every piece of music is treated individually, performed at the highest level with convincing interpretations. Whether the Agrell Concerto premiere, Vivaldi's enthralling Concerto for 2 Violins & Cello in D Minor, or any one of the commissioned works, nothing seems unfamiliar or out of place.
Two Sides is a magnificent debut from Barokkbandið Brák that will be a valuable addition to any collection, especially for those who appreciate broad and diverse repertoire within the realm of period performance.