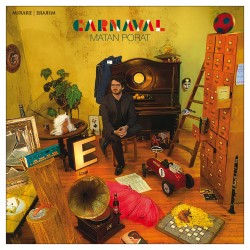 Carnaval – A recital around Schumann's Carnaval Op.9
Matan Porat
Mirare MIR502D (matanporat.com)
These are challenging times and what better way to help lift the pervading dark mood than a musical carnival – specifically Schumann's Carnaval Op.9? The piece, completed in 1835, remains among the most beloved from the Romantic repertoire and, seemingly, would never warrant any degree of modification. Yet the Israeli-born pianist Matan Porat had other ideas, and the result is this splendid recording on the Mirare label, his third disc to date.
Porat acknowledged that while Carnaval is a quintessential document of Romanticism, he wanted to take a closer look at Schumann's musical mind and expand upon the original score through the insertion of 23 additional short pieces by 18 composers as diverse as Heitor Villa-Lobos, François Couperin and György Kurtág. In so doing, Porat hoped it would not only shed light on music by other composers, but also inspire a greater appreciation for the original score.
And it works! Delivering a polished and elegant performance, Porat has clearly taken considerable care with the placement of the musical selections. As an example, Schumann's Pierrot is followed by Villa-Lobos' A manha da Pierrette, written in the same coquettish mood. On the other hand, Kurtág's Ostinato in A-flat, with its repeated bass notes, forms a fine introduction to Schumann's Reconnaissance in the same key, which is followed by the Prelude in C Minor from Bach's first book of the Well-Tempered Clavier, and in turn, Pantolon and Columbine, all demonstrating the same frenetic energy.
Finally, after 43 tracks, what could be a better ending than the rousing Davidsbündler March, bringing the set to a most satisfying conclusion? Kudos to Porat, not only for an exemplary performance, but for his skillful reconfiguration of a much-loved piece – recommended.