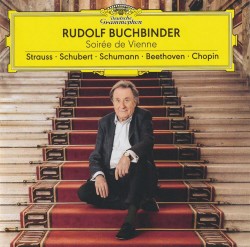 Soirée de Vienne
Rudolf Buchbinder
Deutsche Grammophon 486 3072 (deutschegrammophon.com/en/catalogue/products/soiree-de-vienne-rudolf-buchbinder-12855)
Vienna reveres her composers. I remember strolling along the beautiful chestnut tree-lined Ringstrasse with a statue of Johann Strauss playing the violin and others of Schubert, Bruckner and more. Now imagine five of your favourite composers namely Beethoven, Schubert, Chopin, Schumann and Johann Strauss having been invited to some music-loving aristocrat's Salon to fill the evening with piano playing.
Rudolph Buchbinder is the very accomplished Viennese pianist who takes us into such an evening. The pieces that follow show the light side of each composer; the purpose is to entertain, not compete. And who should we begin with if not the quintessential Viennese: Johann Strauss II to set the tone – a Concert paraphrase or potpourri from Die Fledermaus followed by the Pizzicato Polka, the very essence of good humour played with infinite charm and delicacy. Schubert is next with the March Militaire, again a rather humorous piece I last heard played by 100 teenagers collected from all over Berlin and conducted by none other than Lang Lang.
Schubert is further represented by Four Impromptus, which are mandatory for any aspiring piano student. My big accomplishment was playing No.4 in A-flat Major with those rather difficult cascading runs and a grand melody emerging in between. I loved playing my heart out with the passionate middle part. These impromptus are easy compared to those of Chopin, particularly the magnificent Fantasie-Impromptu in C-sharp Minor Op.66. And so it goes. Chopin Waltzes and Nocturnes, a Beethoven Bagatelle and Schumann's Liebeslied. Oh, then my favourite Strauss waltz: Voices of Spring – I wish it comes soon!