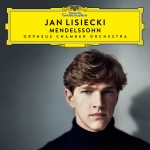 Canadian pianist Jan Lisiecki's recording career continues with his latest issue of Mendelssohn (Deutsche Grammophon DG 4836471; deutschegrammophon.com/en/artist/lisiecki), the sixth time his name appears on this prestigious label. Lisiecki plays the Concerto No.1 in G Minor Op.25 and No.2 in D Minor Op.40 along with the Variations sérieuses, Op.54 and a couple of shorter pieces. His earlier recordings set expectations very high and he has no difficulty in exceeding them. At age 23, his towering technical ability and the blazing speed and accuracy of his playing promise to propel him for a good many years toward some still distant pinnacle. It would all be something of a meteoric flash were it not for his maturity.
The willingness and ability to forgo the energized brilliance of a youthful performance is the early mark of a musician with something to say, something worth hearing. Lisiecki's fast playing is so impressive it's a wonder the piano is mechanically capable of keeping up. But the middle movements of both concertos along with the more pensive sections of the Variations are the places where the artist becomes subsumed in the art. In the moments of pause and suspense, where so little seems to happen, so much is conveyed. Lisiecki shows how completely he is able to surrender to this music, to lift away from it and let it speak. It's a beautiful recording that promises as much and more for what Lisiecki will still do.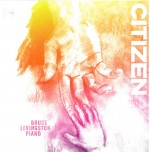 Bruce Levingston's new CD Citizen (Sono Luminus DSL 92228; sonoluminus.com/m-175-bruce-levingston.aspx) finds its inspiration in his invitation to perform at the opening of the Mississippi Civil Rights Museum. Being his home state, it occasioned considerable reflection for him on the deep questions at the core of his community's history and conscience. Two of the works are world premiere recordings from composers commissioned to write music for the same opening. They, along with the four others represented on the disc, speak with a remarkably similar voice. Levingston has programmed his recording to be this way – a reflection of the higher ideals the Civil Rights Museum enshrines.
The opening track is Nolan Gasser's An American Citizen. It's inspired by one of Marie Atkinson Hull's portraits of Mississippi tenant farmers and sharecroppers. Gasser uses many recognizably American idioms to build a highly complex work that nevertheless offers immediate and sustained emotional access. A more contemplative work is David T. Little's Accumulation of Purpose inspired by the Freedom Riders, the civil rights activists who rode buses across the South in 1961. The final tracks go to Price Walden whose Sacred Spaces is a profoundly moving remembrance of the countless churches where African-Americans gathered and contributed to their sense of community. His arrangement of Amazing Grace closes the recording. It's a straightforward structure that uses some extraordinary harmonic transitions to make this iconic hymn even more meaningful in the context of the disc.
This recording by Bruce Levingston is far more than a simple CD. It's a meditation on one of the central issues of our time and can only benefit from being heard and experienced in that way.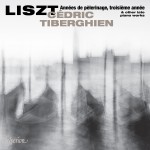 Cédric Tiberghien focuses on the closing years of one of the 19th century's greatest musical figures in his latest recording Liszt – Années de pèlerinage, troisième année & other late works (Hyperion CDA68202; hyperion-records.co.uk). It begins with a handful of shorter works from the last five years of Liszt's life. Tiberghien's posture in these works is hard to describe but a valiant effort might yield something like "micro-playing." The understated pianissimos seem to come from a distant instrument in another place. It's a remarkable technique that can extract so small a whisper from such a powerful instrument. But Liszt is contemplating another world and Tiberghien transcendentally plays from there. The voice he creates at the keyboard speaks a language free to be atonal and arrhythmic as Liszt so daringly intends in the Bagatelle sans tonalité and the Fourth Mephisto Waltz. Contemplation of what lies beyond the threshold of mortality is nearly, but not entirely, without hope. The simple beauty of Wiegenlied and En rêve are sparingly applied to the dark certainties of La lugubre gondola II and Schlaflos! Frage und Antwort. Tiberghien's playing in these late works may be the most beautiful you have ever heard.
The Années predate this period and are freer of the later works' darker contemplations. There is much grand-scale writing and brilliant pianistic conception in these pages and Tiberghien dominates with power and dexterity. His Les jeux d'eaux à la Villa d'Este is a breathtaking portrayal of Liszt's fountains. And his interpretations of Angelus! and Sursum Corda are convincing evocations of their spiritual and liturgical roots.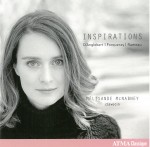 Mélisande McNabney's new release Inspirations (Atma Classique ACD2 2780; atmaclassique.com/En/Albums/AlbumInfo.aspx?AlbumID=1620) offers an intriguing twist on expectations of harpsichord repertoire. These works are transcriptions of music originally for lute. As such, they lack the conventional form that keyboard works devised for two hands would ordinarily display. Instead, these reveal a kind of hybrid piece, principally adapted for keyboard but still revealing much of the lute's character in the way brief solo thematic ideas alternate with great strum-like keyboard arpeggios. Even the lutenist's finger plucking is recreated as clustered staccato patterns by the harpsichordist. It takes some careful listening but the ear begins to hear what the music might have sounded like as a lute piece. It sounds terribly difficult at times with endless cascades of keyboard notes that would have been easier on the lute. Still, 17th-century demands for repertoire for the popular emerging keyboard instrument made transcription a necessary composer's skill. McNabney herself transcribed two works by Rameau, Tendre amour and Air de la Folie. On this recording, she performs on a 1981 instrument built by Keith Hill after an original by the builder Blanchet.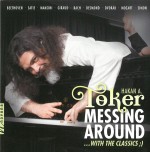 Hakan Toker's latest recording is aptly titled Messing Around (Navona Records NV 6202; navonarecords.com/catalog/nv6202). Yes, this is one of those lists of familiar tunes jazzed up by a talented and creative player. But wait, this inventive and, frankly, brilliant pianist takes the practice to a new level. Imagine Henry Mancini's Moon River being reconceived as a Bach invention or a Satie Gnossienne as a Czardas; or how about Beethoven's Für Elise as Elise's Got The Blues! This is beyond simply clever, it's genius. The Bach Toccata and Fugue in Blue, like the other tracks, shows Toker's understanding of the original forms and his fluency with the modern ones that enables his fusion (or maybe it's fission?) of ragtime, blues, jazz and seemingly any other musical style. It's a little comic at first but very quickly becomes stunningly impressive. The disc includes Paul Desmond's Take Five and Mozart's Rondo alla turka rethought in the most entertaining ways
Toker is the master of everything he plays, regardless of style or technical difficulty.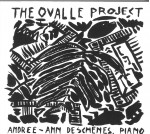 Andree-Ann Deschenes is a California-based French-Canadian pianist. Her new 2CD set The Ovalle Project (aadpiano.com/the-ovalle-project) celebrates the music of Jayme Ovalle, a Brazilian composer of the first half of the 20th century. Ovalle wrote a modest body of works that include some songs, instrumental pieces and 24 compositions for piano. They are varied in style and length but generally conform to classical Western forms and tend toward character pieces and dances but also include several virtuosic works. Deschenes' website describes her attraction to the music and its harmonic richness, density and chromaticism. She has spent some time searching for scores and assembling the manuscripts to be able to record the 24 piano pieces.
The most substantial items in the set are the three Legenda Opp.19, 22 and 23. These are conceived on a larger scale than most of the other material. Massive chords and a wider dynamic make these stand out quite impressively. By contrast Album de Isolda Op.27 is simple and at times seems to have been written in the spirit of a Baroque exercise.
Ovalle's writing takes a few risks with tonality but only rarely. Rhythm is his principle tool and Deschenes uses this masterfully. She has a natural affinity for the Latin spirit of this music and Ovalle's harmonic language. There's a surprising amount of very satisfying variety in this program, aided significantly by Deschenes' obviously passionate interest in Ovalle's work.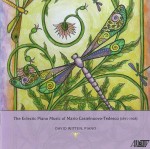 The Eclectic Piano Music of Mario Castelnuovo-Tedesco (Albany Records Troy 1732; albanyrecords.com) is David Witten's new recording treating listeners to an exotic and luscious program of music not often heard. Despite the familiarity of Castelnuovo-Tedesco's name, his piano music is infrequently performed or recorded. Witten's selection of works highlights the modal nature of Castelnuovo-Tedesco's writing and demonstrates his impressive ability for caricature and programmatic writing.
The Seasons Op.33 is a wonderful example of how Witten works the subtle emotional elements used to portray the feel of each season. Similarly, Sonatina Zoologica Op.187 carries titles like Dragonflies, The Snail, Little Lizard and Ants that match the musical portraits the composer paints of the garden creatures. Witten plays the Sonatina beautifully, seizing every opportunity to exploit the composer's picturesque devices. Witten's liner notes offer an instructive reminder of the composer's successful career as a Hollywood film composer and suddenly it all makes sense. This is music for the imagination as much as the ear.
On a higher level, however, Castelnuovo-Tedesco writes Greeting Cards Op.170 in which he devised his own coding system to convert the alphabet into musical notes in order to compose tributes to musicians he admired. Three such pieces on this disc pay homage to Walter Gieseking, André Previn and Nicolas Slonimsky. Witten's playing throughout this disc is consistently superb. He exhibits an abiding curiosity that drives him to explore the reaches of Castelnuovo-Tedesco's language, and a musical intelligence that guarantees the highest fidelity to the composer's intention.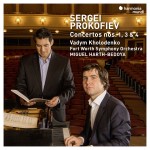 Vadym Kholodenko has more than a half dozen recordings to his credit and now adds his new release Sergei Prokofiev Concertos No.1, 3 & 4 (Harmonia Mundi HMM907632; harmoniamundi.com). Having recorded Piano Concertos 2 and 5 on a previous disc, he completes the cycle with the remaining three. These three come from very different circumstances in Prokofiev's life. The well-known story of Concerto No.1 in D-flat Major, Op.10 has Prokofiev as a 21-year-old pianist winning the Rubinstein Piano Competition performing it. It's a short work played through without movement breaks. Kholodenko immediately captures the boldness and youthful optimism of this work with his opening statements of the main idea, and drives through the rest of the work with undiminished energy.
Concerto No.3 in C Major, Op.26 comes from nearly a decade later, after Prokofiev had left the Soviet Union. Kholodenko plays this in a way that reflects the more confident modernity the composer found in a new environment that encouraged some careful flirtation with atonality. Kholodenko maintains the sense of rhythmic drive that underscores the strong dance impulse of this music.
Concerto No.4 for the left hand in B Flat Major, Op.53 was written in 1931 for Paul Wittgenstein who disliked it and refused to play it. He was kinder to Ravel who also wrote him a similar work. It's a very difficult piece that Kholodenko plays flawlessly.