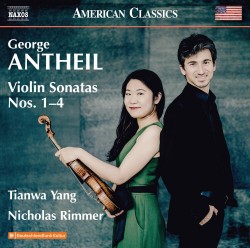 Violinist Tianwa Yang and pianist Nicholas Rimmer are absolutely superb on the incredibly challenging George Antheil Violin Sonatas Nos.1-4, a recital of remarkable music by the New Jersey-born pianist/composer who left America for Europe as a 21-year-old in 1922 intent on becoming "noted and notorious" – and succeeded (Naxos 8.559937 naxos.com/CatalogueDetail/?id=8.559937).
Antheil met Stravinsky in Berlin and in 1923 followed him to Paris, where the first three sonatas were written, commissioned by Ezra Pound for his mistress, the American violinist Olga Rudge. Sonata No.1 shows the unmistakable influence of Stravinsky's Les Noces (premiered the night Antheil arrived in Paris) and the earlier Rite of Spring. The single-movement Sonata No.2 is a dazzling collage of ragtime, popular melodies and folk songs. Stravinsky's influence is back, albeit with a more melodic feel, in Sonata No.3, also a single movement.
Sonata No.4 is from 1947, long after Antheil had moved back to the United States. Although built on Baroque and classical forms the rhythmic, mechanistic style of his Parisian sonatas is still discernible.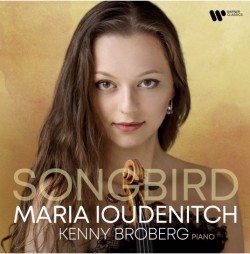 In 2021/22 the American violinist Maria Ioudenitch won first prize at the Ysaÿe International Music Competition and both the Tibor Varga and Joseph Joachim International Violin Competitions, the latter also landing her the Warner Classics Prize that led to her debut Songbird CD with pianist Kenny Broberg (Warner Classics 5419737407 mariaioudenitch.com/listen).
Her "journey through song" is a selection of short works by Robert and Clara Schumann, Fanny Mendelssohn, Nadia Boulanger, Amy Beach, Tchaikovsky, Medtner, Rachmaninoff, Glinka and Richard Strauss. The one substantial work is Schubert's four-movement Fantasie in C Major D934. Theresa Pilsl is the soprano on the Strauss song Morgen.
Technically flawless, Ioudenitch draws a huge tone from the 1691 Pietro Guarneri of Mantua violin, her sweeping phrasing imbued with deep musicality and subtle nuances.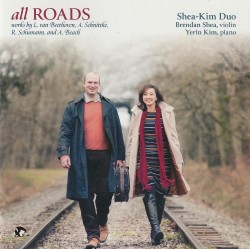 On All Roads, the Shea-Kim Duo of violinist Brendan Shea and pianist Yerin Kim explore music by composers connected to the city of Vienna "in increasingly distant ways" (Blue Griffin Recording BGR643 shea-kimduo.com/shop-1).
Beethoven moved there from Bonn; a beautifully expressive performance of his Sonata for Piano and Violin No.3 in E-flat Major Op.12 opens the disc. Robert Schumann is represented by his Sonata for Violin and Piano No.1 in A Minor Op.105.
Alfred Schnittke also lived in Germany but studied in Vienna; included here is his Suite in the Old Style. The final work is the Romance Op.23 by the American Amy Beach, whose tenuous link to Vienna is that she apparently "visited once."
Warm, stylish playing, fine ensemble and a lovely recording quality make for a highly enjoyable disc.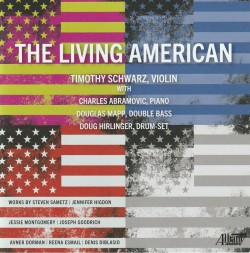 On The Living American the excellent violinist Timothy Schwarz continues to champion American music with a diverse collection of works by seven of today's leading American composers, including five recording premieres; the pianist is Charles Abramovic (Albany Records TROY1930 albanyrecords.com).
There are three solo violin works: Fantasia on Lama badaa yatasana by Steven Sametz; Jessie Montgomery's Rhapsody No.2; and Reena Esmail's Raag Charukeshi from Drashan, a blend of Indian and Western classical music that explores grief in various forms.
The third movement of Jennifer Higdon's String Poetic is here, as is Avner Dorman's wide-ranging single movement, Sonata No.1. The three entertaining pieces by musical theatre composer/pianist Joseph Goodrich were written for and premiered by Schwarz, as was the Sametz work and the final work on the CD, Denis DiBlasio's Australian Sketches, in which the duo is joined by bassist Douglas Mapp and drummer Doug Hirlinger.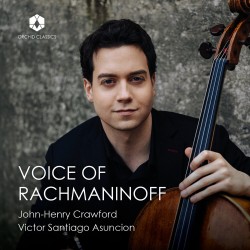 Cellist John-Henry Crawford and pianist Victor Santiago Asuncion celebrate the composer's 150th anniversary on Voice of Rachmaninoff, an album that explores the vocal nature of his music through original works and transcriptions (Orchid Classics ORC100241 orchidclassics.com).
The Cello Sonata in G Minor Op.19 anchors a recital that includes transcriptions of the Vocalise Op.34 No.14, two songs, a piano Prelude, the 19th variation from the Rhapsody on a Theme of Paganini and Fritz Kreisler's arrangement of the theme from the slow movement of the Piano Concerto No.2.
Crawford's warm cello sound is perfectly suited to Rachmaninoff's expansive, long-breathed melodies, ably supported by Asuncion in the often extremely difficult piano parts.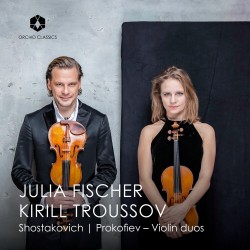 It's a digital-only release and fairly brief at just under 25 minutes, but Shostakovich/Prokofiev – Violin Duos with violinists Julia Fischer and Kirill Troussov and pianist Henri Bonamy is well worth a listen (Orchid Classics ORC100234 orchidclassics.com).
The Shostakovich work is his Five Pieces for Two Violins and Piano, short miniatures in a much more light-hearted vein than is often the case with this composer. The Prokofiev is his Sonata for Two Violins, a typically spiky but tuneful work with a high degree of difficulty.
An interesting trivia note: Troussov's violin is the 1702 "Brodsky" Stradivarius that Adolph Brodsky played at the December 1881 premiere of the Tchaikovsky concerto.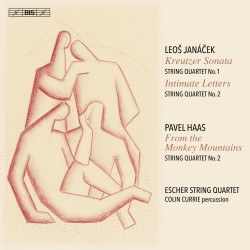 The booklet essay for the Escher String Quartet CD of quartets by Leoš Janáček and Pavel Haas notes that while programmatic and autobiographical quartets date back to Beethoven nowhere have they been more prominent than in the Czech lands, and the three works here are all of a highly personal nature (BIS 2670 SACD bis.se).
Janáček's voice in his later compositions is unmistakable, overflowing with raw emotion and passion. His 1923 String Quartet No.1 "Kreutzer Sonata" was inspired by Tolstoy's novella about marriage and adultery, but it's in his 1928 String Quartet No.2 "Intimate Letters" that his unrequited love for the much younger Kamila Stosslova finds full expression, perfectly captured by the Escher Quartet.
The 1925 String Quartet No.2 "From the Monkey Mountains" by Pavel Haas recalls a memorable stay in the beautiful Czech Moravian Highlands, with reminiscences of an early love affair. Colin Currie handles the ad lib percussion part in the remarkable A Wild Night final movement.
Two glorious chamber works are featured in outstanding performances on Mozart String Quintets K515 & 516, with violist Antoine Tamestit joining the Quatuor Ébène (Erato 5419721332 warnerclassics.com/release/mozart-string-quintets).
The two quintets, No.3 in C Major and No.4 in G Minor were written a month apart in April and May of 1787, with the extra viola – a favourite instrument of the composer's – adding a warmth and richness to the heart of the music. The release blurb refers to K515 as being "radiant and energetic, exuding elegance and grace," which is also a perfect description of the playing here, which gets to the emotional heart of this remarkable music.
Beautifully recorded, it makes you wish for a complete set of the five mature quintets.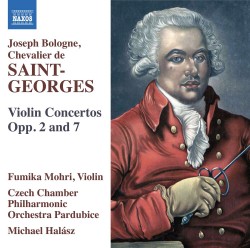 The Japanese violinist Fumika Mohri is the soloist in the Violin Concertos Opp.2 & 7 by Mozart's exact contemporary the remarkable Joseph Boulogne, Chevalier de Saint-Georges, with the Czech Chamber Philharmonic Orchestra Pardubice under Michael Halás (Naxos 8.574452 naxos.com/CatalogueDetail/?id=8.574452).
The Concerto in G Major Op.2 No.1 and the Concerto in D Major Op.2 No.2 were published in Paris in 1773, and the Concerto in A Major Op.7 No.1 and the Concerto in B-flat Major Op.7 No.2 in 1777, although issues with the sources suggest a much earlier composition date. The editions here are by Allan Badley, who also wrote the excellent booklet notes.
Comparison with Mozart is perhaps inevitable, but these showcases for Saint-Georges' virtuoso technique are attractive and engaging works, described by Badley as "rich in melodic invention and displaying at times a striking degree of originality." Performances are beautifully judged throughout a delightful CD.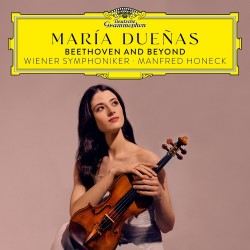 Beethoven and Beyond is the impressive Deutsche Grammophon debut CD by the young Spanish violinist Mária Dueñas, recorded live in Vienna's Musikverein with the Wiener Symphoniker under Manfred Honeck (4863512 deutschegrammophon.com/de/katalog/produkte/beethoven-and-beyond-dueas-12950).
Dueñas says that in the Beethoven concerto "you have to reveal yourself. And that can only be done through sound." And what a sound she produces: a crystal clear, bright and glowing tone full of warmth. All three cadenzas are her own, but she cleverly ends the CD with terrific performances of first movement cadenzas by Spohr, Ysaÿe, Saint-Saëns, Wieniawski and Kreisler for fascinating comparison, filling out the recital with an original work by each composer. Ysaÿe's Berceuse Op.20 and Kreisler's Liebeslied are from the live concert; Saint-Saëns' Havanaise Op.83, Wieniawski's Légende Op.17 and Spohr's Adagio from his Symphonie concertante No.1 with harpist Volker Kempf are studio recordings.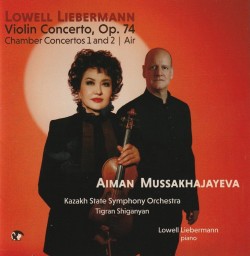 Kazakh violinist Aiman Mussakhajayeva is the superb soloist in world-premiere recordings of works for violin and orchestra on Lowell Liebermann Violin Concerto Op.74, with Tigran Shiganyan leading the debut recording of the Kazakh State Symphony Orchestra (Blue Griffin Records BGR645 bluegriffin.com).
The 2001 concerto is an expansive, emotionally engaging and immediately accessible work that should really become a mainstay in the repertoire. Liebermann made violin and string orchestra arrangements of his two chamber concertos from 1989 and 2006 especially for this recording, and is the pianist in the Chamber Concerto No.1 Op.28a.
The gorgeous 2011 Air for Violin and Orchestra Op.18 ends a CD of finely crafted and attractive contemporary works for violin and orchestra, all brilliantly presented by Mussakhajayeva on her 1732 Stradivarius violin.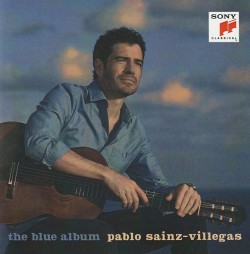 Describing his new CD The Blue Album guitarist Pablo Sainz-Villegas says that blue stands for a particularly intimate mood, an atmosphere of reverie and relaxation (Sony Classical19658779092 pablosainzvillegas.com).
There's certainly nothing challenging in a recital of brief pieces by Weiss, Couperin, Domenico Scarlatti, Sor, Debussy, Satie and Brouwer, together with Tárrega's arrangement of Iradier's La Paloma, Stanley Myers' Cavatina and Ryuichi Sakamoto's Merry Christmas, Mr. Lawrence.
Bland snippets of Philip Glass and Max Richter seem completely out of place on an album supposedly featuring "some of the most beautiful and most heartfelt melodies ever written" – an enormous stretch – but no matter. There's clean, efficient playing – perhaps somewhat lacking in character – all resonantly recorded.