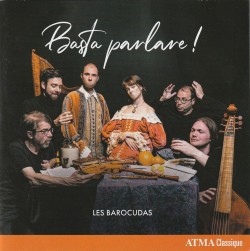 Basta parlane!
Les Barocudas
ATMA ACD2 2824 (atmaclassique.com/en)
The names and compositions of 17th-century Italian composers Dario Castello, Giovanni Legrenzi, Giovanni Battista Grillo, Tarquinio Merula, Biagio Marini and Francesco Rognini Taeggio may be unfamiliar, yet their music, spiritedly performed by the Montreal-based Les Barocudas, provides the most purely entertaining CD of Baroque works I've heard in years.
These composers didn't always specify the exact instrumentation to be employed in their pieces, and all may not have had the recorder in mind, but the indisputable star of this CD is recorder virtuoso Vincent Lauzer, whose brightly coloured, near-non-stop cheerful chirpings invigorate most of the action. He's joined by Marie Nadeau-Tremblay (Baroque violin), Tristan Best (viola da gamba), Antoine Malette-Chénier (Baroque harp), Hank Knox (harpsichord), Nathan Mondry (organ) and Matthias Soly-Letarte (percussion).
The CD begins and ends with Sonatas by Castello (a third is included in the disc), each about seven minutes long, featuring alternating brief passages of rapid sprightliness and measured solemnity. At just over ten minutes, the CD's longest selection is Marini's plaintive Sonata Quarta, in which Nadeau-Tremblay is accompanied by Malette-Chénier and Mordry. (It's the only piece where Lauzer's recorder is absent.)
Among the other seven pieces, each lasting three or four minutes, three especially stand out: Marini's Trio Sonata (variations on the French folk tune La Monica) and Merula's Canzon No.19 "La Pasterla," both stately dances; Rognini-Taeggio's Diminutions after Palestrina's "Vestiva i colli" is a churchly processional, rendered somewhat irreverent by Lauzer's flamboyantly festive recorder!