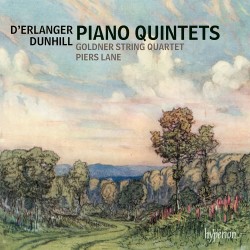 Dunhill & Erlanger – Piano Quintets
Piers Lane; Goldner String Quartet
Hyperion CDA68296 (hyperion-records.co.uk)
British composers Thomas Dunhill (1877-1946) and Baron Frédéric d'Erlanger (1868-1943) each wrote a piano quintet, both in four substantial movements. Until Australia's pre-eminent Goldner Quartet and pianist Piers Lane recorded them for Hyperion, however, these late Romantic works were largely overlooked by the musical mainstream.
Born in Paris, d'Erlanger lived for most of his life in London where he worked in the family business as a banker. His biography further notes that he was "by inclination a patron of the arts, and through creativity a composer." His opera, ballet, orchestra and chamber music scores were widely performed during his lifetime. D'Erlanger's 1901 Quintet reflects Brahmsian and Dvořákian influences, as well as a distinctive tunefulness paired with lively rhythms, playful thematic flow and a sure feel for drama. The substantial piano part certainly adds heft to the string quartet writing imbued with an audio palm court aura, on the lighter side of the classical music spectrum.
Londoner Thomas Dunhill on the other hand, d'Erlanger's contemporary, was a prolific career composer and professor of music. His C-Minor Quintet evokes earlier 19th-century musical idioms drawing on Robert Schumann's scores, but it also echoes Elgar's chamber music.
Part of this album's interest is in the dual thrill of discovery and (musical) time travel: I had heard of neither composer before, nor of their century-old music. Early Edwardian chamber music seldom sounded as good, particularly when played this well.