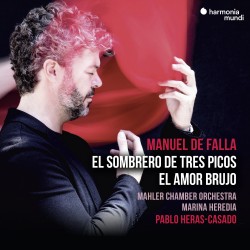 Manuel de Falla – El Sombrero de tres picos; El amor brujo
Marina Heredia; Carmen Romeu; Mahler Chamber Orchestra; Pablo Heras-Casado
Harmonia Mundi HMM902271 (harmoniamundi.com/#!/albums/2538)
This exciting new issue from Harmonia Mundi presents de Falla's two best stage works back to back on a single CD conducted by the young, energetic, brilliant Spanish conductor Pablo Heras-Casado who is very much in demand these days. Both of these scores pulsate with fiery flamenco rhythms and melodies, so Heras-Casado is in his element and enjoying himself thoroughly.
El sombrero de tres picos (The Three-Cornered Hat) is the more elaborate of the two. It is a comedy ballet/pantomime, a morality tale with the message "love belongs to the young and old fogeys should not chase young women." The old fogey in this case is the village magistrate (El Corregidor) with a three-cornered hat who is after the Miller's pretty young wife. She flirts with him for a while, but in trying to catch her he keeps stumbling and falling on his face to the ridicule of the village folk. Simple enough story, but full of delightful dances one after another, each different and each assigned to a different soloist – the Fandango (Miller's wife), the Minuet (Corregidor), the Farruca (Miller) or the gentle rollicking Seguidilla for the neighbours celebrating St. John's night, the night of love. At the end is a real apotheosis where it all comes together in the Final Dance, the Jota, with everyone dancing and all is forgiven.
As a contrast El amor brujo (Love the Magician) is much more serious although also a ballet. It tells of a young woman trying to exorcise the ghost of her unfaithful husband and be ready for a new love. It's a dark score, full of mystery and black magic with dances like the Dance of Terror or the famous Ritual Fire Dance, but the story has a happy ending in a major key (Dance of the Game of Love) and all the bells are ringing. Excellent sound, great entertainment.