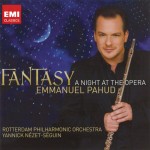 Fantasy - A Night at the Opera
Emmanuel Pahud; Rotterdam Philharmonic Orchestra; Yannick Nézet-Séguin
EMI Classics 4 57814 2
During my period in music retail many years ago, I was once asked by a customer, "I need a disc of operatic arias, but I don't want the singing, only the music"(!). I've undoubtedly told this story before, and I repeat it now only because it ties in so well with this new EMI recording titled "Fantasy – A Night at the Opera" featuring flutist Emmanuel Pahud with the Rotterdam Philharmonic under the direction of Canadian conductor par excellence Yannick Nézet-Séguin.
As the name suggests, this disc comprises an attractive collection of opera arias as arranged for flute and orchestra. While the operas from which they are derived are familiar, such as Verdi's La Traviata, and Bizet's Carmen - the arrangers are decidedly less so, and contrary to what one might think, not all date from the 19th century. For example, the Fantasy on Mozart's Magic Flute, was composed by Robert Forbes (born in 1939), and the paraphrase from Tchaikovsky's Eugene Onegin was written by Guy Braunstein, born as recently as 1971. Also included on the disc is a sensitive (and unarranged) performance of the lyrical Dance of the Blessed Spirits from Gluck's 1762 opera Orphée et Eurydice.
Not surprisingly, Pahud has no difficulty in meeting the technical demands of the virtuosic and high-spirited writing inherent here, while the Rotterdam Philharmonic, under Nézet-Séguin's competent baton provides a tasteful and strongly supportive accompaniment.
While most of these arrangements wouldn't really be classified as Great Music, the disc is nevertheless entertaining and diverting, a true showcase for Emmanuel Pahud's talents, and proof indeed that Nézet-Séguin is just as at home with this lighter more flamboyant repertoire as he is with music of a more serious nature. Recommended.