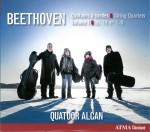 Canada's Quatuor Alcan has been at the forefront of the string quartet world for many years now, and the ensemble is currently celebrating its 25th anniversary. The group's sizeable discography includes quartets by Haydn, Mozart and Schubert, but so far, perhaps surprisingly, only two of Beethoven's 16 string quartets. That's about to change, however, as their 25th anniversary is being marked by the release of a CD series of the complete Beethoven Cycle. Volume 1 (ATMA ACD2 2491) was released in November and is a 2-CD issue containing the six quartets of Op.18. Although the ensemble's website refers to the Beethoven project as a "new recording," these six quartets here were actually recorded between May 2007 and November 2010.
It's certainly an auspicious start to the series. There's marvellous playing, tremendous accuracy and attention to detail here, made even more effective by the way this ensemble seems to think, breathe and play in complete unison.
The Alcan is up against serious competition in this field of course, with complete cycles still available from most of the leading ensembles of the last 60 years – the Guarneri, Amadeus, Orford, Alban Berg, Budapest, Borodin, Emerson, Tokyo, Artemis and Quartetto Italiano for starters. The good news, though, is that comparisons are not only almost impossible but also completely irrelevant; this promises to be a terrific set, and that's all that matters.
Volumes 2 and 3 are scheduled for release in February and April of this year. Stay tuned.
Robert Schumann, more than any other composer I can think of, tended to concentrate on one particular genre of composition at a time. 1842 was his chamber music year and his three String Quartets Op.41 were written in a matter of eight weeks in June and July, after he had spent several months preparing by studying the quartets of Haydn, Mozart and – in particular – Beethoven, whose late quartets had so impressed him a few years earlier. The influence of the latter is easy to hear, but the voice that really leaps out at you is that of Mendelssohn, to whom the quartets were dedicated on their publication in 1848.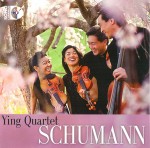 On Schumann, their latest CD (Sono Luminus DSL-92184), the Ying Quartet gives passionate and committed performances of these wonderful works. Schumann's non-keyboard compositions are often viewed as being somewhat pianistic, but if any of his works belie this view it's these string quartets: they are beautifully written – idiomatic, strong and imaginative, sensitive and nuanced, with wide-ranging emotions and an abundance of rhythmic vitality. All of these qualities are fully exploited by the Ying Quartet; this is full-blooded Romantic playing recorded with a rich resonance.
The CD package comes with an additional Pure Audio Blu-ray CD equipped with the mShuttle application, enabling you to access portable copies of the music featured on the regular CD.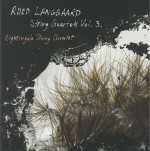 The third and final volume of the outstanding series of the Complete String Quartets by the Danish composer Rued Langgaard (1893-1952) is now available (DACAPO 6.220577). Volume 1 was reviewed in depth in this column in July 2012 and Volume 2 in April 2014, at which times I noted that Denmark's Nightingale String Quartet was simply superb in this series of all nine quartets by a composer described as an eccentric outsider who was virtually ignored by the Danish musical establishment in his lifetime.
Most of Langgaard's string quartets were written in his youth, between 1914 and 1925, although his later revision and recycling of earlier material makes for a confusing numbering system which doesn't include all of the quartets and doesn't even reflect the order of their composition. As the excellent booklet notes point out, the works date from the departure point between Late Romanticism and Modernism and cover a remarkably wide stylistic spectrum, with tonal idioms ranging from Mozart to Bartók.
This third volume features the String Quartet No.1 from 1914-15 (revised in 1936), the String Quartet No.5 from 1925 (revised 1926-38) and the very brief string quartet movement Italian Scherzo from late 1950, Langgaard's last contribution to the genre. This track and the String Quartet No.1 are world premiere recordings.
Once again, the performances by the prize-winning all-female Nightingale Quartet are outstanding – warm, passionate, expressive and displaying great ensemble playing. Beautifully recorded at the Royal Danish Academy of Music and issued on Denmark's national record label, these performances are as close to definitive as you can get; the complete set is an outstanding addition to the 20th century string quartet discography.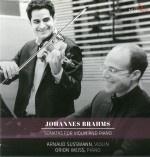 It's always a good sign when you play through an entire CD of some of your favourite works and realize that you were so taken by the performances that you haven't even made any notes. That's exactly what happened with the new CD of the three Brahms Sonatas for Violin and Piano in performances by the French violinist Arnaud Sussmann and the American pianist Orion Weiss (Telos Music TLS 174). From the opening bars of the wistful G Major Op.78 through the graceful A Major Op.100 to the tempestuous D Minor Op.108, this is simply beautiful playing. Sussmann has a warm, soft tone and faultless intonation, and perfectly captures the different moods of these glorious works. His tonal quality and nuanced phrasing are matched by Weiss, who is an outstanding collaborator and partner throughout the CD. Recorded in Germany in 2013, the sound quality and balance are excellent.
There are so many terrific young violinists around these days that it's difficult to keep up with them all. The English violinist Thomas Gould is a new name to me, but like many of the soloists I encounter for the first time is already into his early 30s and well-established; also, like many of his contemporaries who grew up in the musical world of the 1980s and 1990s, he is reluctant to restrict his playing to any particular genre.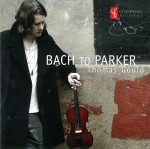 Gould describes his latest CD, Bach to Parker (Champs Hill CHRCD078) as beginning life as a recital program in which he interspersed movements from Bach's Six Sonatas and Partitas for unaccompanied violin with some of the new works recorded here for the first time. His intention was to show how contemporary extended violin technique has evolved from Bach's supreme contrapuntal writing, and the result is a fascinating CD.
Gould's technical prowess and musical intelligence are established right from the start with a warm, expansive performance of the great Chaconne from Bach's D-minor Partita No.2. From then on it's an eclectic list of ten short pieces written by predominantly young contemporary composers – six are still in their 30s – almost all of whom were either born or are now resident in the UK.
Two pieces – Nico Muhly's A Long Line and Mark Bowden's Lines Written A Few Miles Below – use pre-recorded backing tracks, but the rest are pure solos by Graham Williams (Mr. Punch), Anna Meredith (Charged), Nimrod Borenstein (Quasi una cadenza), Ewan Campbell (Two Extremes), Aziza Sadikova (La Baroque), Dai Fujikura (Kusmetche) and John Hawkins (Bobop).
The CD ends with the Miles Davis tune Donna Lee, made famous by the recording with Charlie Parker's quintet – hence the title of the CD. Gould is joined by bassist David O'Brien in a terrific but all-too-brief jazz performance that channels Stéphane Grappelli.
Gould's tone is sumptuous throughout, regardless of the style he is required to play; hardly surprising, given that he plays a 1782 J.B. Guadagnini violin. The whole CD is a fascinating look at the contemporary music scene in England, and at the way that many young virtuoso musicians view their role and function in a changing musical world.