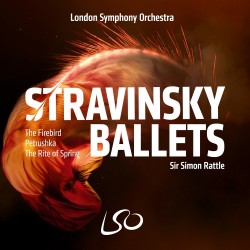 Stravinsky Early Ballets
London Symphony Orchestra; Sir Simon Rattle
LSO Live LSO5096 (lso.co.uk)
Stravinsky told stories; his ballets are like film scores accompanying every moment of the action. Here are his three early masterpieces, musical Art Nouveau, produced with tremendous care and skill by the London Symphony Orchestra, led by Sir Simon Rattle. It's impossible to overstate the quality of playing here, at the individual and ensemble level.
I love how confidently they produce the now-familiar Firebird, yet the music still sounds new, and utterly Russian (notwithstanding the debt owed Ravel, in terms of the rich orchestration and harmonic colour). Sharp details emerge from the misterioso bass murmur of the introduction. The orchestra provides lush romantic gestures, but gives nothing away in rhythmic acuity. The Princess' Game, the Firebird Variation and most of all the Infernal Dance will get you up and dancing. The detail is phenomenal! So much of what Stravinsky created has since been borrowed repeatedly, especially by film composers. It's a marvel to hear the evergreen source material.
In Petrouchka, Stravinsky juxtaposes concurrent "unrelated" musical events. Who came first, Ives or Igor? Muscular assurance and finesse feature throughout this performance. Can a difficult score sound too easy? Not to me, it simply sounds daring, and correct. The desolation in Petrouchka's Cell stands in gloomy contrast to the vivid account of the Shrovetide Fair. The exuberant Rattle's enthusiasm is infectious; all the players buy in.
Finally, the terror-filled depiction of pagan ritual sacrifice that shocks and awes the listener to this day: Le Sacre du Printemps, possibly Stravinsky's most celebrated work. Its premiere famously provoked a riot among the audience. According to the composer's own account, things were also fairly riotous backstage: he described Valery Nijinsky (great dancer, not-so-much choreographer), yelling step counts to the dancers from the wings, resulting in onstage chaos. The performance here is anything but chaotic, except possibly by intention. Menacing, bracing, unsettling, completely as intended. You don't have to love this music (though I do!) to admire this performance. Nothing, not even the perfect assurance of the LSO and Rattle, diminishes its edginess.