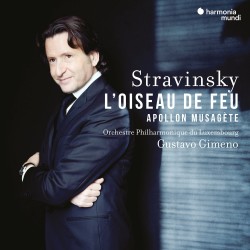 Stravinsky – L'Oiseau de feu; Apollon Musagète
Luxemburg Philharmonic Orchestra; Gustavo Gimeno
Harmonia Mundi HMM905303 (store.harmoniamundi.com/release/318357)
In June of 2019, Gustavo Gimeno conducted the Toronto Symphony Orchestra in a powerful performance of Stravinsky's 1945 suite from The Firebird. Last May, he led them in an even more memorable Firebird. This time, he took the podium as music director of the orchestra. And the version he chose was the less frequently programmed original that Stravinsky wrote in 1910 for Diaghilev's legendary Ballets Russes. It's more than twice the length of any of the three concert suites Stravinsky later made. But this performance left me with no doubt – more was better.
On his standout new recording of The Firebird with the Orchestre Philharmonique du Luxembourg (where he is also music director), Gimeno again opts for the original full-length ballet score. Every moment speaks persuasively. Stravinsky's tapestry of evocative Russian folk melodies, angular textures and infectious rhythms becomes an edge-of-the-seat experience. Colourful solos, like the rhapsodic flute welcoming the 13 captive princesses, and the volcanic timpani driving the frenzied dance of the evil sorcerer Koschei's subjects, enhance the drama.
The pairing with Stravinsky's equally groundbreaking ballet Apollon Musagète, written 18 years later, works brilliantly. Like The Firebird, it draws on ancient tales. But these tales are from Greek mythology. In The Firebird, goodness must overcome evil to triumph. Here, goodness prevails unchallenged. Instead of conflict there's serenity. Instead of mystery, there's clarity. It's all conjured up luminously by Gimeno and the exquisite strings of the Orchestre Philharmonique du Luxembourg in gorgeous, sweeping brushstrokes.