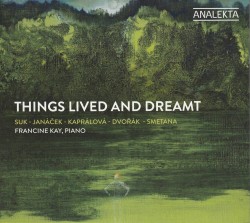 Things Lived and Dreamt
Francine Kay
Analekta AN 2 9004 (analekta.com/en)
There are relatively few Czech composers regularly featured within the Classical canon, and the majority of these are renowned for their large-scale orchestral and choral works. Antonín Dvořák's symphonies, Bedřich Smetana's Má vlast and Leoš Janáček's Glagolitic Mass are all examples of such composers and their expansive, oft-performed music.
In addition to these great works, each of these composers also wrote a variety of piano music, featured here on Canadian Francine Kay's Things Lived and Dreamt. With repertoire by Dvořák, Smetana and Janáček, as well as Josef Suk and Vítězslava Kaprálová, this recording provides a comprehensive overview of 19th- and 20th-century Czech piano music.
Each selection on this disc is notable for its expressive power and poignancy, from Janáček's solemn and profound Sonata 1.X.1905 – written after the composer witnessed the killing of an unarmed Czech protester by a German soldier – to the levity of Dvořák's Humoresques, which are both delightful and ingenious little pieces. Suk's Things Lived and Dreamt is a Schumann-esque diary portraying people, places and events through lyrical movements that express far more in three or four minutes than some composers can in 30 or 40.
Kaprálová's April Preludes is a highlight of this recording, a stunning suite of pieces by a quite unknown composer. Kaprálová studied in Prague and Paris, passing away at the age of 25 while fleeing the Nazi occupation. Despite her young age, the April Preludes are strikingly mature and complete, demonstrating a mastery of late-Romantic technique that stretches the limits of tonality through dissonance and bitonality.
A testament to the greatness of Czech music, Kay's recording is fertile ground for those who are interested in the Czech symphonic tradition – from Dvořák's Humoresques to Kaprálová's April Preludes, this disc goes from strength to strength.