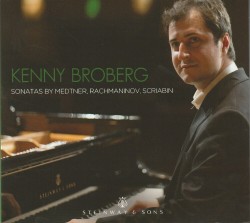 Sonatas by Medtner; Rachmaninov; Scriabin
Kenny Broberg
Steinway & Sons 30198 (kennybroberg.com)
The music of three Russian composers – Rachmaninov, Scriabin and Medtner – all of whom worked against the backdrop of a particularly turbulent political scene, and each with dissimilar ideals, are presented here on this Steinway & Sons recording featuring American pianist Kenny Broberg. Born in Minneapolis, he was the silver medalist at the 2017 Van Cliburn International Piano Competition and won bronze at the International Tchaikovsky Competition in 2019.
Rachmaninov completed his Piano Sonata No.2 in 1913 and although the piece was well received, he revised it in 1931, shortening the length and simplifying many of the difficult passages. The original must have been daunting indeed, as technical challenges still abound from the very beginning. Nevertheless, Broberg demonstrates a formidable technique, delivering a polished and exuberant performance.
No less daunting is the Scriabin Sonata No.5 Op.53 from 1907. Scriabin, a piano virtuoso, infused his music with mysticism resulting in a thoroughly modern style which closely paralleled Symbolist literature of the period. The one-movement piece – barely 12 minutes in length – has long been regarded as among his most difficult.
A younger contemporary of Rachmaninov and Scriabin, Medtner was born in Moscow in 1880. His Sonata Op.25 No.2 "Night Wind" written in 1912 is his most extended of the genre. The score is archly Romantic with a second movement Allegro molto sfrenatamente which is no less demanding than the first – the night wind never ceases. The third movement Danza Festiva proves a rousing conclusion that Broberg performs with great bravado.
In all, a fine recording by a young artist from whom we can hope to hear again.