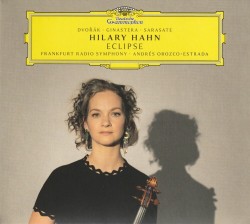 Violinist Hilary Hahn was planning to record the Dvořák Violin Concerto in A Minor Op.53 with Andrés Orozco-Estrada and the Frankfurt Radio Symphony, pairing it with Alberto Ginastera's Violin Concerto Op.30, which she had yet to learn, and Sarasate's Carmen Fantasy, which she loved but had never played, when the COVID outbreak put plans on hold. In the booklet notes to Eclipse, the resulting album, Hahn discusses the emotional journey through lockdowns and personal doubts that finally bore fruit (Deutsche Grammophon 486 2383 deutschegrammophon.com/en/artists/hilaryhahn/hilary-hahn-eclipse-2225).
The Dvořák concerto was live streamed from the orchestra's hall at the radio station in March 2021, with no audience. It's a beautifully expansive and committed performance; "Our playing," says Hahn "was vivid and palpably redemptive."
The June concert at the Alte Oper hall's reopening also marked Orozco-Estrada's farewell as music director as well as Hahn's personal premiere of the other two works. The challenging Ginastera concerto, which Hahn calls "nearly unplayable" is a fascinating and unusually structured work that draws an exceptional performance from all involved; the Carmen Fantasy is played with suitable brilliance.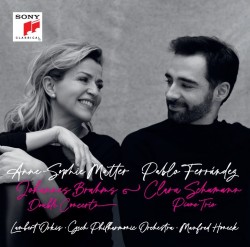 A new CD of music by Johannes Brahms and Clara Schumann presents a quite outstanding performance of the Brahms Double Concerto for Violin and Cello in A Minor Op.102 featuring violinist Anne-Sophie Mutter and cellist Pablo Ferrández in a live January 2022 Prague concert recording with the Czech Philharmonic under Manfred Honeck. It's paired with a studio recording of Clara Schumann's Piano Trio in G Minor Op.17, where Lambert Orkis is the pianist (Sony Classical 196587411022 sonyclassical.com/news/news-details/anne-sophie-mutter-and-pablo-ferrandez-1).
Mutter's playing in the Brahms is a revelation, her tone, phrasing and dynamics in the opening movement in particular all contributing to one of the most beautiful renditions I've heard. Ferrández, who incidentally plays two Stradivarius cellos on the disc is an equal partner throughout.
Orkis adds his own special talents to a captivating performance of the Schumann trio to round out a superb CD. Concert note: Anne-Sophie Mutter and the Mutter Virtuosi perform on Tuesday, February 7 at Roy Thomson Hall.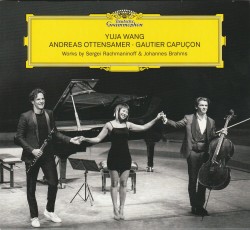 Pianist Yuja Wang is joined by cellist Gautier Capuçon and clarinettist Andreas Ottensamer on a CD of Works by Sergei Rachmaninoff & Johannes Brahms (Deutsche Grammophon 486 2388 deutschegrammophon.com/en/artists/yujawang).
Wang and Capuçon have been playing together since the 2013 Verbier Festival, and Rachmaninoff's Cello Sonata in G Minor Op.19 was part of that debut recital. The quality of their playing and ensemble work here is of the highest order.
There are two works by Brahms. Capuçon brings a warm, deep tone to the Cello Sonata in E Minor Op.38, with Wang's empathetic accompaniment a real joy. Ottensamer, the principal clarinet with the Berlin Philharmonic joins for the Clarinet Trio in A Minor Op.114 – not as frequently heard as the Clarinet Quintet Op.115, perhaps, but a real gem.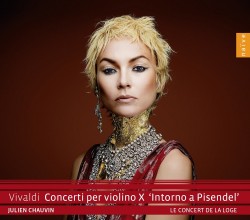 The Vivaldi Edition, the ongoing project to record some 450 works by Vivaldi in the Biblioteca Nazionale in Turin, reaches its 69th volume with Vivaldi Concerti per violino X 'Intorno a Pisendel', with Julien Chauvin as soloist and director of Le Concert de la Loge (Naive OP 7546 bfan.link/vivaldi-concerti-per-violino-x-intorno-a-pisendel)
The six works here are all linked to the virtuoso violinist Johann Georg Pisendel (1687-1755), a major figure at the Dresden court who met Vivaldi in Venice on a court visit in 1716-17 and became a friend and pupil. Pisendel copied many of Vivaldi's works and also received several dedicated manuscripts.
Three of the concertos – RV237 in D Minor, RV314 in G Major and RV340 in A Major – are from the dedicated manuscripts, and three – RV225 in D Major, RV226 in D Major and RV369 in B-flat Major – are from Pisendel's hand-written copies. All are three-movement works with Allegro outer movements and Largo or Andante middle movements.
Chauvin is outstanding, his bright, clear tone, faultless intonation and virtuosic agility perfectly backed by the resonance and effective dynamics of the orchestra, all beautifully recorded. And yes, a lot sounds like The Four Seasons, but there's a continual freshness to the music that makes each concerto a real delight.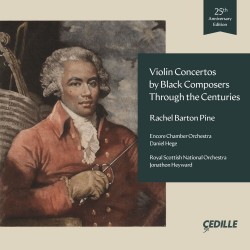 In 1997 violinist Rachel Barton Pine recorded four Violin Concertos by Black Composers of the 18th and 19th Centuries with conductor Daniel Hege and the Chicago Youth Symphony Orchestra's Encore Chamber Orchestra. To mark the 25th anniversary of its release Cedille has reissued three of the original recordings on Violin Concertos by Black Composers Through the Centuries (Cedille CDR 9000 214 cedillerecords.org).
Included are the Violin Concerto in A Major Op.5 No.2 (c.1775) by Joseph Bologne, Chevalier de Saint-Georges, the Violin Concerto in F-sharp Minor (1864) by George Enescu's teacher José White Lafitte (1836-1918) and the 1899 Romance in G Major by Samuel Coleridge-Taylor, whose violin concerto wouldn't fit on the original album. The original fourth work has been replaced by a new recording of Florence Price's 1952 Violin Concerto No.2, with Jonathon Heyward conducting the Royal National Scottish Orchestra.
The Saint-Georges is an absolute gem with a glorious slow movement, the Lafitte a standard mid-19th century virtuosic Romantic concerto very much in the Max Bruch Germanic mould, but none-the-less effective for that. The Coleridge-Taylor is a lush melodic piece, again very much of its time.
Price's music has been getting a great deal of attention recently. The concerto here is a rather uneven single-movement work with a truly lovely recurring hymn-tune melody but contrasting material that occasionally approaches the banal. Her orchestration can seem somewhat amateurish at times, probably more reflective of a personal sound and style than any lack of craft.
Performances throughout are top notch.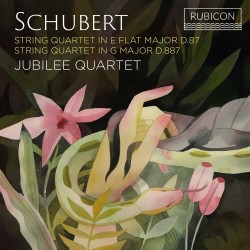 The UK-based Jubilee Quartet is in superb form on Schubert String Quartets, with outstanding performances of quartets from each end of the composer's career (Rubicon Classics RCD1082 rubiconclassics.com).
The String Quartet in E-flat Major D87 was written when Schubert was only 16, but was already his tenth quartet. It's light and joyful, with an all-to-be-expected song-like quality, beautifully captured here.
The String Quartet in G Major D887 from 1826, Schubert's 15th and final quartet is a large-scale, groundbreaking masterpiece, the equal of the late Beethoven quartets. Words used in the booklet notes to describe its extreme emotions include dramatic, violent, painful, menacing, introverted and innocent. There's a terrific range of dynamics and of touch and sensitivity in a quite remarkable performance of a quite remarkable work.
A warm, crystal-clear recorded sound captures every nuance.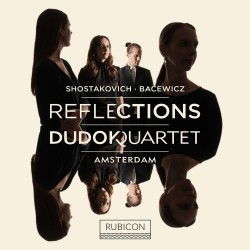 Another really impressive quartet disc is Reflections, on which the Dudok Quartet Amsterdam presents works by Dmitri Shostakovich and Grażyna Bacewicz, two composers who often masked their true feelings in their music (Rubicon Classics RCD1099 rubiconclassics.com).
Shostakovich's String Quartet No.5 in B-flat Major, Op.92 was written in 1952, four years after the composer's second denunciation in the infamous 1948 Zhdanov decree; it's given a deeply perceptive and emotional reading here. Five of his 24 Preludes Op.34 for piano from 1933 are heard in really effective arrangements for string quartet.
The String Quartet No.4 by Polish composer Grażyna Bacewicz was written in 1951, with the booklet notes suggesting the influence of the oppression of the Polish people by the Soviet regime in the late 1940s; its frequent folk music references, however, made it acceptable to the authorities. It's another deeply felt reading of a very strong work.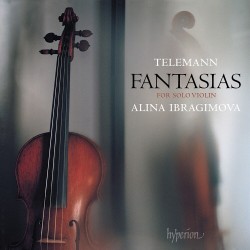 There's another CD of the Telemann: Fantasias for Solo Violin, this time by the outstanding Alina Ibragimova (Hyperion CDA68384 hyperion-records.co.uk/a.asp?a=A1677).
The 12 short works, described here as amply justifying the high repute in which Telemann was held, are deceptively easy-looking on the printed page, but don't be fooled. The 1968 Bärenreiter edition stated that they were intended "for the amateur or the instrumental student" but also noted that "the double-stopping and chordal work can naturally only be tackled by a competent player." Well, there's an Understatement of the Year winner for you.
The 12 Fantasias, in 11 different keys, display a variety of different moods, never deeply emotional but never facile or shallow either; even the shortest sections – some only a few bars in length – display taste and craft.
Always in complete technical control, Ibragimova simply dances through them, seemingly enjoying every minute to the fullest.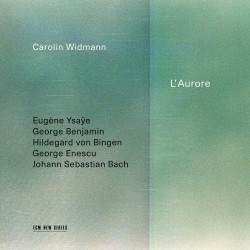 L'Aurore is the first solo album by German violinist Carolin Widmann for the ECM New Series label ECM 2709 ecmrecords.com/catalogue/1647418055).
Hildegard von Bingen's Spiritus sanctus vivificans opens the CD and also reappears later in a slightly different take. George Enescu's brilliant Fantaisie concertante from 1932, which should surely be better known, is followed by the Three Miniatures from 2002 by George Benjamin (b.1960) and a really striking performance of Ysaÿe's Sonata No.5 in G Major Op.27.
A contemplative performance of Bach's Partita No.2 in D Minor BWV1004 ends an excellent disc. Nothing is rushed, and Widmann is never too strict rhythmically, the intelligent use of slight stresses and stretched phrasing injecting life into every movement.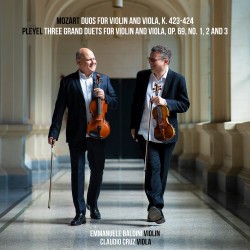 Violinist Emmanuele Baldini and violist Claudio Cruz are the performers on Mozart and Pleyel Duos for Violin and Viola (Azul Music AMDA1781 azulmusic.com.br).
The two Mozart pieces, both of three movements, are the Duos for Violin & Viola in G Major K423 and in B-flat Major K424. The work by Pleyel, a student of Haydn and a direct contemporary of Mozart (he was born a year later but outlived Mozart by 40 years) is his Three Grand Duets for Violin and Viola Op.69 Nos.1-3. The first two duets have two movements and the third three.
There's nothing earth-shattering here, just some beautifully competent music given stylish and sympathetic performances by two excellent players.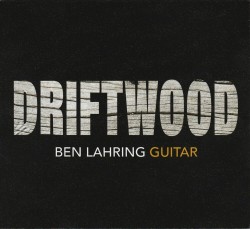 Driftwood is the second album released by the Calgary-based guitarist Ben Lahring, with six of the 11 tracks his own compositions (Alliance Entertainment 198004147064 benlahring.com).
Liona Boyd's really nice Lullaby for My Love opens the disc, with short pieces by William Beauvais, Seymour Bernstein, Graeme Koehne and a Miguel Llobet arrangement of a traditional Catalan melody balancing the original Lahring compositions – the three-movement Firstborn of the Dead, Over the Pacific, Fair Winds and Following Seas and the title track.
There's clean playing with lovely tone and colour in an attractive and fairly low-key program that doesn't vary much in style, sound or mood.
Finally, two updates on previously-reviewed Beethoven series: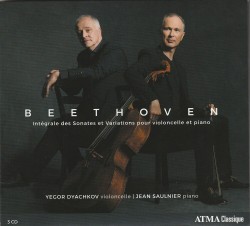 My May review of the digital release of the first volume of the complete music for cello and piano by the Montreal-based duo of cellist Yegor Dyachkov and pianist Jean Saulnier noted that a 3CD physical set was to be released in October, and it's here: Beethoven Intégrale des Sonates et variations pour violoncelle et piano (ATMA Classique ACD2 2431 atmaclassique.com/en).
I previously described the playing as "intelligent and beautifully nuanced, promising great things for the works still to be released," and the complete set more than fulfills that promise. Outstanding playing and a superb recorded sound quality make this set hard to equal, let alone surpass.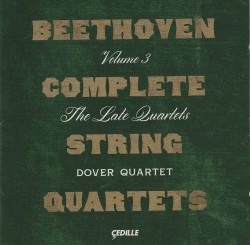 The Dover Quartet completes its set of Beethoven Complete String Quartets with Volume 3 The Late Quartets (Cedille CDR 90000 215 cedillerecords.org).
This final 3CD issue features the String Quartets No.12 in E-flat Major Op.127, No.13 in B-flat Major Op.130, No.14 in C-sharp Minor Op.131, No.15 in A Minor Op.132, No.16 in F Major Op.135 and the Grosse Fugue in B-flat Major Op.133. My previous reviews noted performances of conviction and depth, and the standard has clearly been upheld to the end of an outstanding addition to the quartet's discography.