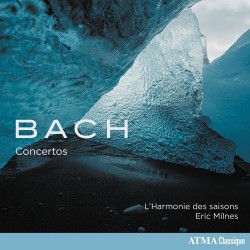 Bach Concertos
L'Harmonie des saisons; Eric Milnes
ATMA ACD2 2853 (atmaclassique.com/en)
The talented combination of Quebec-born viola da gambist Mélisande Corriveau and American harpsichordist and conductor Eric Milnes is a truly fortuitous one, which 12 years ago resulted in the formation of the Baroque ensemble L'Harmonie des saisons. Founded in Granby, Québec the group has since earned considerable critical acclaim and has appeared at festivals throughout Canada, the United States, Europe and South America, and has been the recipient of two Juno and two Opus awards. This newest recording presenting an all-Bach program is further evidence of the group's merit.
The Concerto for Two Violins BWV1043 and that for solo violin BWV1041 were probably written for a concert series Bach organized as the director of the Collegium Musicum in Leipzig. Soloists Julia Wedman (from Toronto's Tafelmusik) and Jessy Dubé (with Wedman in the solo concerto) deliver stylish and spirited performances, the phrasing always thoughtfully articulated, while the ensemble provides a solid partnership.
The Concerto BWV1055 is most often performed on a keyboard instrument, but scholars indicate that it was probably originally scored for oboe d'amore as is heard here. There is much to admire in oboist Matthew Jennejohn's bright and clear tone both in this concerto and in BWV1060 where he's joined by Wedman.
Milnes takes his place at the harpsichord for the Concerto in D Major BWV1054, the third of seven Bach wrote for solo keyboard. Here, soloist and ensemble are a formidable pairing with Milnes playing with a solid assurance and the slow movement particularly well rendered.
Fine sound quality further enhances a fine performance of some familiar repertoire. Bien fait, one and all – let's hear from you again.