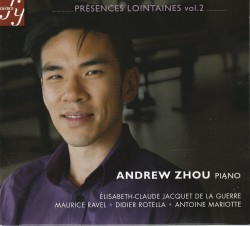 Présences Lointaines Vol. 2
Andrew Zhou
Solstice FY SOCD 394 (andrew-zhou.com)
Vladimir Jankélévitch, who lived from 1903 to 1985, was a French philosopher and musician who enjoyed a long academic career both in Prague and in Paris. He had definite ideas concerning music, among them that the art form was the only path to eternal life. Présences Lointaines – Distant Presences pays him a worthy tribute with a program of French piano music spanning a 300-year period performed by American Andrew Zhou. Zhou was a second-prize winner at the Concours International de Piano d' Orleans and is currently a visiting lecturer at Cornell University.
Elisabeth-Claude Jacquet de la Guerre was a cousin of François Couperin and also an accomplished musician in her own right. Her seven-movement Suite in D Minor from the Pièces de Clavecin of 1707 is strong evidence of her skill as a composer and Zhou delivers an elegant and precise performance, at all times carefully nuanced.
Ravel is the only familiar composer on the disc, and his Prelude from 1913 – his shortest piece, lasting a mere minute and 13 seconds – is a languorous essay, while the Étude en blanc No.2 Élégie (Hommage à Ravel) by Didier Rotella (born in 1982) for prepared piano is hauntingly atmospheric.
Born in 1875, Antoine Mariotte spent the early part of his life as both sailor and musician. He later earned a reputation as both an operatic composer and administrator. His Piano Sonata from 1905 is very much in the French late Romantic tradition requiring formidable dexterity on the part of the performer, but Zhou handles the challenges with an uncompromising technique, bringing the disc to a rousing conclusion.