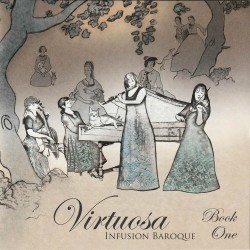 Virtuosa Project
Infusion Baroque
Leaf Music LM246 (leaf-music.ca)
The piquant new release by Virtuosa, a period ensemble form Quebec, is part of their notable Virtuosa Project, a series of concerts, lectures and web videos dedicated to women musicians prior to the 20th century. In itself, this is an impressive undertaking featuring 14 compositions, stylish interpretations and tons of heartfelt energy. Almost all of the female composers on this album remained in the shadows of their male counterparts but brought just as much knowledge, skill and talent to the European courts and concert stages. Many were courageous and imaginative performers and composers who led financially independent lives and acquired noble reputations. This album features an all-star list of powerful and talented women composers, some of whom remain relatively unknown to audiences today: Anna Bon, Anna Amalia of Prussia, Wilhelmine von Bayreuth, Maddalena Lombardini Sirmen, Elisabeth-Claude Jacquet de la Guerre, Leopoldine Blahetka, Teresa Milanollo, Hélène Liebmann and the better-known Clara Schumann.
Ensemble Virtuosa is daring in both their programming and performance. The beauty of structure and phrasing is emphasized through a fantastic array of colours; the ensemble and their guest artists perform with a great sensitivity to each of the individual compositional languages. The inclusion of the contemporary piece Versailles written for Baroque instruments by Canadian Linda Catlin Smith is perhaps a surprising inclusion, but it works well as it binds together meditative and enigmatic feminine qualities, resulting in uniquely beautiful textural layers.
Intuitive and reflective, Infusion Baroque celebrates the vibrant creativity and lives of these women.