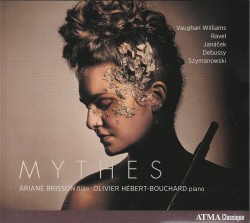 Mythes
Ariane Brisson; Olivier Hébert-Bouchard
ATMA ACD2 2842 (atmaclassique.com/en)
The flute has had a long and illustrious history as far back as prehistoric times and its appeal is again showcased on this attractive ATMA recording featuring transcriptions of compositions performed by flutist Ariane Brisson and pianist Olivier Hébert-Bouchard. Brisson was selected as "Découverte de l'année" at the Prix Opus 2019-2020 Gala and Grand Prize winner of the Prix d'Europe competition in 2013, while award-winning pianist Hébert-Bouchard is a founding member of Trio Émerillon and Prisma.
As the title implies, the disc partly pays homage to the worlds of fantasy and magic as seen through the eyes of five composers. It opens with Ralph Vaughan Williams' haunting The Lark Ascending, music inspired by George Meredith's 1881 poem of the same name. Here, the listener is immediately struck by Brisson's warm and sonorous tone with Hébert-Bouchard providing a solid and sensitive partnership.
Ravel's Sonatine was completed around 1905, and although originally scored for solo piano, the combination of flute and piano is an appealing one, particularly in the vivacious finale animé. Both Janáček's Pohádka (A Tale) from 1912 and Debussy's renowned Prélude à l'après-midi d'un faune clearly prove that skilful arrangements can be as convincing as the originals.
The three-movement Mity (Myths) by Karol Szymanowski was inspired by Greek mythology and was originally scored for violin and piano. Here, Narcissus, Pan and the dryads all make an appearance in this highly impressionistic score. Once again, Brisson and Hébert-Bouchard prove a formidable pairing.
These are challenging times, so Mythes just might be a perfect means of briefly escaping into a better place – a welcome addition to the catalogue.