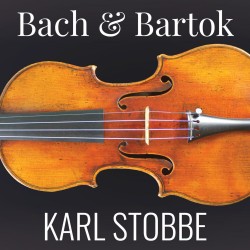 Canadian violinist Karl Stobbe recently created a series of online concerts featuring video recordings of solo violin repertoire, including all six of the Bach Sonatas & Partitas. These recordings are now being turned into a series of albums, with Bach & Bartók the opening volume (karlstobbe.com).
Stobbe pairs Bach's Sonata No.3 in C Major BWV1005 with the Bartók Sonata for Solo Violin for historical as well as musical reasons: Bartók heard Yehudi Menuhin play the Bach in early 1944 when he was working on his own sonata, commissioned by Menuhin after their late-1943 meeting. Stobbe senses a connection, feeling that the Bach C Major is the only one of the Bach works that has a similar musical journey to the Bartók – from darkness to light, through uncertainty and wandering harmonies to an expression of celebration and joy.
Stobbe has a big, rich sound, and the strength to navigate the fiendishly difficult Fuga in the Bach as well as the technical challenges in the Bartók. It promises to be a fascinating series.
Concert Note: Karl Stobbe performs at the Festival of the Bay, Midland Cultural Centre, on July 26 and at the Festival of the Sound on July 28.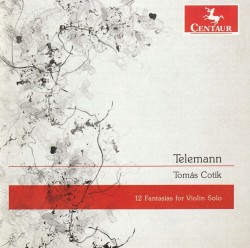 There's more Baroque violin music from an exact contemporary of Bach on Telemann 12 Fantasias for Violin Solo in supremely satisfying performances by Tomás Cotik (Centaur CRC 3949 tomascotik.com).
In previous reviews I've noted that the Fantasias, written some 15 years after Bach's Sonatas & Partitas at first appear less challenging than the Bach. They seem so much easier on the page, shorter and with simpler lines and less multiple-stopping, but they're fraught with technical pitfalls – angular, awkward intervals, tricky string-crossing – and they play much faster than they look.
Still, nothing challenges Cotik, who uses a Baroque bow to lovely effect in the slow sections and to simply dance through the Allegro, Presto and Vivace movements. There are 44 sections in all, some only a few bars long, but all are inventive, varied and charming. The booklet essay says that "every note of these often complex pieces lies perfectly, if not easily, [my italics] under the bow."
Well, yes – if you're as superb a player as Tomás Cotik.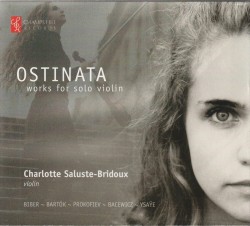 The Bartók sonata also turns up in Ostinata: works for solo violin, the excellent debut recording from the young London-based French violinist Charlotte Saluste-Bridoux (Champs Hill CHRCD158 champshillrecords.co.uk).
Biber's Passacaglia in G Minor, "The Guardian Angel", the final piece from his Rosary Sonatas, is followed by Bartók's Sonata for Solo Violin and the Prokofiev Sonata in D Major Op.115. Grażyna Bacewicz's Sonata No.2 from 1958 and Ysaÿe's Sonata No.4 in E Minor Op.27, dedicated to Kreisler, complete the disc.
There's smooth, clean playing throughout, with technical assurance, strong melodic lines and no hint of roughness – I've certainly heard the Bartók Fuga (which Karl Stobbe interestingly terms "brutal") played with more attack and spikiness. The Presto final movement in the Bacewicz is quite brilliant, and an idiomatic reading of the Ysaÿe sonata completes a highly satisfying recital.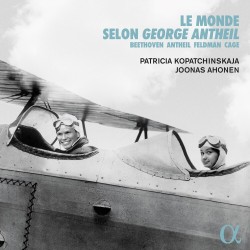 There should be a warning label on violinist Patricia Kopatchinskaja CDs: "Fireworks – handle with care." You always get something different and incredibly exciting from this player who never hesitates to take risks, and so it is with her latest CD Le Monde selon George Antheil with pianist Joonas Ahonen (Alpha Classics ALPHA797 outhere-music.com/en/albums/le-monde-selon-george-antheil).
Antheil, the American composer and pianist, caused riots in early 1920s Europe as a "Pianist-Futurist" who wrote machine-like and explosive piano works. Presented here is his astonishing Violin Sonata No.1 from 1923, its percussive and machine-like outer movements in particular drawing terrific playing from the duo.
Antheil's world, referenced in the CD title, included Morton Feldman and John Cage, the former represented here by the brief Piece (1950) and Extensions 1 (1951) and Cage by his 1947 Nocturne. It's the Violin Sonata No.7 in C Minor Op.30 No.2 by Antheil's lifelong hero Beethoven, however, that sees Kopatchinskaja really upping the excitement levels in a quite remarkable performance.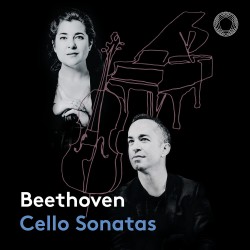 There's an outstanding new set of the complete Beethoven Cello Sonatas, this time with cellist Alisa Weilerstein and pianist Inon Barnatan (Pentatone PTC5186884 pentatonemusic.com/product/beethoven-cello-sonatas).
The two have been playing together since 2008 and are close friends, and their mutual understanding shows in every moment of these beautifully judged performances. They were recorded during the pandemic in 2020 for the 250th anniversary of Beethoven's birth, with Weilerstein saying that doing so "at such a fragile, chaotic time" helped make it an immensely rewarding experience.
It certainly shows in superb performances that will more than hold their own against any competition.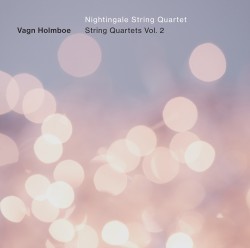 Denmark's Nightingale String Quartet follows up its outstanding first volume of fellow-countryman Vagn Holmboe's complete works in the genre with Vagn Holmboe String Quartets Vol.2 (Dacapo 6.220717 naxos.com/catalogue/item.asp?item_code=6.220717).
The three works this time are the String Quartet No.2 Op.47 from 1949, the String Quartet No.14 Op.125 from 1975 and the two-movement Quartetto sereno Op.197 posth., the shortest of Holmboe's quartets and unofficially No.21. Started just two months before the composer's death in 1996, it was completed by his friend and former pupil Per Nørgård.
The exceptionally high standard of the initial volume is continued here, the publicity material accurately describing the performances as "energetic, precise yet lively and poetic interpretations" of works which "stand among the most significant contributions to the genre in the 20th century."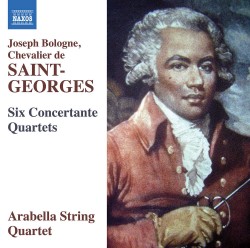 Swordsman, horseman, athlete, violinist, composer – what a fascinating individual Joseph Bologne, Chevalier de Saint-Georges must have been. SAINT-GEORGES Six Concertante Quartets is the fourth Naxos CD devoted to his works, in performances by the Arabella String Quartet (8.574360 naxos.com/catalogue/item.asp?item_code=8.574360).
Saint-Georges wrote three sets of six quartets, starting with Six Quatuors Op.1 in 1772 and ending with Six Quatuors concertans Op.14 in 1785. The quartets in the current set, written in 1777 and published without opus number in 1779, are all short works of only two movements each.
The string quartet form in France was in the early stages of development at the time, the four-movement form being developed by Haydn having little influence. Still, as the booklet notes remark, while small in scale these quartets are exceptionally rewarding, amply demonstrating Saint-Georges' rich lyrical gifts and natural ability to delight performers and audiences alike.
Lovely playing makes for an absolutely delightful CD.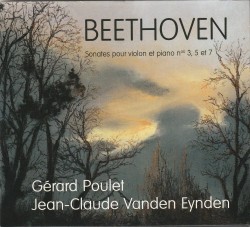 The French violinist Gérard Poulet, who turns 84 later this year, is no stranger to the Beethoven violin sonatas, having released a 4CD box set in 2001 in addition to a few single releases, all with different pianists. His latest recording is Beethoven Sonates pour violon et piano nos. 3, 5 et 7, with pianist Jean-Claude Vanden Eynden (Le Palais des Dégustateurs PDD026 lepalaisdesdegustateurs.com).
The sonata keys and opus numbers aren't identified, but they are No.3 in E-flat Major Op.12, No.5 in F Major Op.24 "Spring" and No.7 in C Minor Op.30 No.2. Poulet has a lovely sound – warm, sweet and never forced or over-stressed. These are simply lovely readings, with the "Spring" sonata (which also features in all the above-mentioned recordings) at the heart of a delightful recital.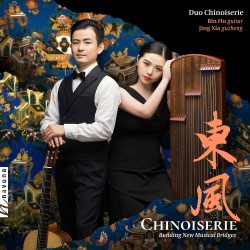 Chinoiserie – Building New Musical Bridges is the fascinating debut CD from the Duo Chinoiserie of classical guitarist Bin Hu and Jing Xia on guzheng, the Chinese plucked string instrument similar to a zither. Described as a true melding of Eastern and Western cultures, it features arrangements of works by Granados, de Falla and Debussy as well as contemporary compositions (Navona NV6417 navonarecords.com/catalog/nv6417).
Newly commissioned works by Sérgio Assad and Mathias Duplessy, along with Yusuke Nakanishi's Inari open and close the disc. All other titles are transcriptions by the Duo Chinoiserie, including Stephen Goss' Cantigas de Santiago, three excerpts from El amor brujo, the Granados Oriental and Debussy's Girl with the Flaxen Hair and Golliwog's Cakewalk.
The guzheng's clear, distinctive sound obviously tends to dominate, especially if it's taking the melodic line, but it combines perfectly with the guitar to produce a quite unique musical experience.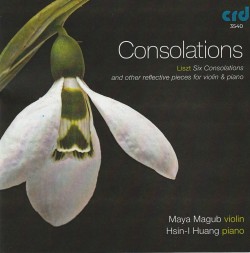 Consolations – Liszt Six Consolations and other reflective pieces for violin and piano, featuring violinist Maya Magub and pianist Hsin-I Huang is another lockdown project, started when Nathan Milstein's transcription of the third of Six Consolations for Solo Piano inspired Magub to transcribe the remaining five for violin and piano herself (CRD Records CRD3540 crdrecords.com).
The big difference here was the decision to record the tracks independently and then combine them in the studio, although having to decide which to record first possibly contributed to a sense of treading carefully and a general absence of risk-taking.
Accompanying the Liszt are 12 short pieces, with evergreen favourites by Schumann, Massenet, Rachmaninoff, Kreisler, Bach/Gounod, Dushkin/Paradis, Handel, Chopin and Mendelssohn.
Magub's violin sound is clear and warm and quite distinctive – a slow vibrato (if any at all) and occasional portamento. Both instruments are clearly recorded.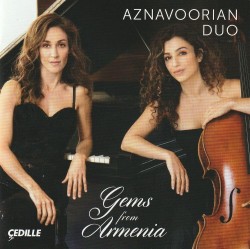 The Armenian-American Aznavoorian sisters Ani, cello, and Marta, piano, make their duo recording debut with Aznavoorian Duo: Gems from Armenia, a CD that explores their musical heritage (Cedille Records CDR 90000 209 cedillerecords.org).
The disc opens with five ancient folk songs arranged by the Western-trained orthodox priest, composer and musicologist Komitas Vartabed (1869-1935), a seminal figure in Armenian classical music. Four Soviet-era composers are represented: Aram Khachaturian with two brief pieces; Arno Babajanian (1921-83) with the lovely Elegy for solo piano and the Aria & Dance; Alexander Arutiunian (1920-2012) with the lively Impromptu; and Avet Terterian (1929-94) with the really impressive three-movement Sonata for cello and piano from 1956.
Contemporary Armenian composers are represented by single short pieces by Serouj Kradjian (b.1973), well known in Toronto as the pianist in Amici, and Vache Sharafyan (b.1966), plus the world-premiere recording of Mount Ararat, commissioned from Peter Boyer (b.1970) for this recording project.
There's some really lovely music here, all beautifully played and recorded.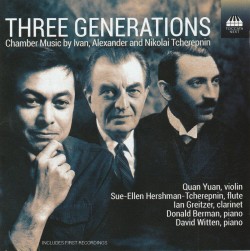 The Tcherepnin family of composers is celebrated on Three Generations: Chamber Music by Ivan, Alexander and Nikolai Tcherepnin. Violinist Quan Yuan and pianist David Witten are the duo for almost the entire CD (Toccata Next TOCN 0012 toccataclassics.com).
Works by Alexander Tcherepnin (1899-1977) open the disc, his Romance WoO from 1922, his Élégie Op.43 from 1927 and Arabesque Op.11 No.5 from 1921 all being first recordings. The major work here is his three-movement Sonata in F Major Op.14.
The most attractive music on the disc is by the composer most active in the Russian late-Romantic era, Nikolai Tcherepnin (1873-1945). His Poème Lyrique Op.9 from 1900 is a simply lovely work that draws particularly fine playing from Quan, and his Andante and Finale Op. posth. from 1943 (another first recording) is also a gem, the dazzling folk-influenced Finale having more than a hint of Stravinsky's Petrushka.
Two flute works by Ivan Tcherepnin (1943-98), Pensamiento and Cadenzas in Transition are played here by his wife, Sue-Ellen Hershman-Tcherepnin. She is joined by pianist Donald Berman and clarinetist Ian Greitzer for the premiere recording of the latter.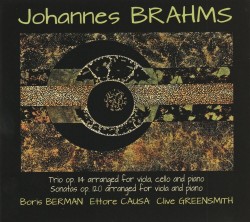 Although it was apparently released in 2020 I only recently received the CD of Brahms Trio Op.114 and Sonatas Op.120 in the composer's own viola arrangements of three of the four late chamber works inspired by his friendship with clarinetist Richard Mühlfeld, but I'm including it because it features some of the loveliest viola playing I've heard in a long time (Le Palais des Dégustateurs PDD023 lepalaisdesdegustateurs.com).
Ettore Causa is the outstanding violist, ably supported by pianist Boris Berman throughout and by cellist Clive Greensmith in the Trio. The Steinway D piano adds depth and body to beautifully judged performances of Brahms at his most autumnal.