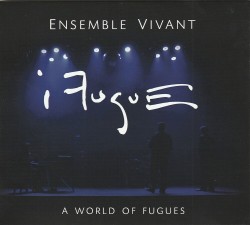 iFugue – A World of Fugues
Ensemble Vivant
Opening Day ODR 7477 (ensemblevivant.com)
A homage to J.S. Bach and an imaginative exploration of fugues from around the world and across the centuries, this album is beaming with creative sonic adventures. Hop on board and you will hear music that is entertaining, stylish and absolutely daring in both programming and performances. Included here are arrangements of various fugues by Bach as well as Piazzolla, Romero, Vivaldi, Shostakovich, Franck and Villa-Lobos. Ensemble Vivant also presents three world premieres on this album, expressive contemporary fugues by Canadian composers John Burke and Michael Coghlan.
Ensemble Vivant brings out the beauty and the precision of the form in fugues with strictly classical foundation. The arrangements include a varying number of instruments and some work better than others, but the performances are always synergetic and engaging. Burke's innovative arrangement of Vivaldi's Sinfonia in E Minor featuring percussion (and the clever title iFugue) works exceptionally well and Catherine Wilson's charming rendition of Bach's Prelude & Fugue in F-sharp Major captures the essence of Bach in small gestures. But it is the fugues in the South American tradition that light the fire in the ensemble and bring the never-ending cascades of passion and movement. Fuga con Pajarillo, written by Venezuelan composer Aldemaro Romero and arranged by Julien Labro, is simply stunning. A World of Fugues offers a journey around the world in 15 pieces, each with a message and a beauty of its own.