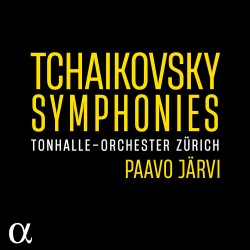 Tchaikovsky Symphonies
Tonhalle-Orchester Zurich; Paavo Järvi
ALPHA 778 (naxosdirect.com/search/alpha778)
I have been a longtime admirer of the conductor Paavo Järvi since the release of his live Beethoven cycle with the Kammerphilharmonie, Bremen of September 2009. At that time, I was very impressed by his ability to beautifully balance the orchestra.
Now we have a box set of Tchaikovsky symphonies together with various orchestral works and here it is again, the orchestra balanced so well that every instrument is clearly audible, still in its natural balance without being spot lit. This five-CD set from Alpha Classics has been so well recorded that you can map out the entire orchestra, the Tonhalle-Orchester Zurich, of which Järvi is music director. His presentation of these works is more thoughtful and sensitive than some other recorded versions from the likes of Karajan, Mravinsky et al, but no less powerful.
Symphony No.1 "Winter Daydreams" is eloquently gentle and Symphony No.2 "The Little Russian, positively optimistic, patriotic and joyful. We move through the power and cumulative intensity of the Third "Polish" to the power of the Fourth and unbounded exuberance and positive optimism of the Fifth to the overwhelming sadness and ultimate resignation of the final movement of the Sixth Symphony, "Pathétique".
The six orchestral works accompanying the symphonies include Francesca Da Rimini, Capriccio Italien, two pieces from Eugene Onegin, the Waltz and the Polonaise, as well as Romeo and Juliet and the Festival Coronation March. All enjoy the same meticulous attention to detail that we now expect from Järvi.
After a lifetime of listening to these works conducted by so many others, this recording may very well be my preferred version. Here the music unfolds as a narrative. It flows. These are well-considered new readings that may have you rethinking certain passages and perhaps reappreciating others. The five discs are also available separately.