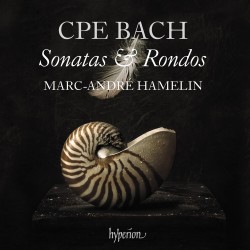 CPE Bach – Sonatas & Rondos
Marc-Andre Hamelin
Hyperion Records CDA68381 (hyperion-records.co.uk/dw.asp?dc=W22447_68381)
"He is the father and we are the children. Anybody who knows anything at all learned it from him." Lofty words of praise indeed coming from no less a figure than Mozart in reference – not to JS Bach as we might assume – but to his second surviving son Carl Philipp Emanuel. Born in Weimar in 1714, CPE Bach was an accomplished composer and performer. His extensive keyboard output included 400 solo sonatas, fantasias and other works, all of it demonstrating considerable innovation and impeccable craftsmanship exemplified here in this two-disc Hyperion recording of sonatas and rondos performed by Marc-André Hamelin.
The 56 tracks – a true choice of riches – follow Bach's compositional career from 1725 to 1787 and what is particularly striking is the diversity in musical style these pieces contain, all within a classical framework. Some of them, such as the Sonata in E Minor Wq59/1 and the Rondo in E Major Wq58/3 show tendencies towards the north German "expressive style" with sudden changes in tempo and key signature while others like the Arioso with Seven Variations in C Major Wq118/10 are pure galanterie.
Throughout, Hamelin performs with a polished assurance, his playing at all times thoughtfully nuanced. His flawless technique particularly comes to the fore in such works as the presto finale of the Fantasia in C Major Wq61/6.
This recording is an exemplary addition to the catalogue. Not only does it shine light on music that deserves greater recognition, but it proves – if proof is needed – that despite Hamelin's usual focus on virtuosic 19th-century repertoire, he is a master at anything he decides to approach. Excellent notes and attractive packaging are further bonuses.