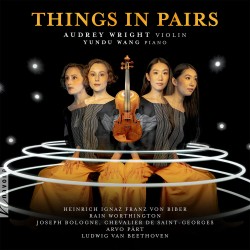 Things in Pairs
Audrey Wright; Yundu Wang
Navona Records NV6392 (navonarecords.com)
Things in Pairs is an album that captures a listener's heart from the very first note. Not only is it following a clever concept of pairing music from across five centuries in a way that is both exciting and meaningful, but it also features performances by violinist Audrey Wright and pianist Yundy Wang that are beaming with passion and artistry.
It is easy to hear the musical narrative here and appreciate the connection between the compositions. Coupling Biber's Passacaglia for Solo Violin with Balancing on the Edge of Shadows by contemporary composer Rain Worthington is simply splendid. Biber and Worthington, separated by centuries of musical legacy, treat the violin as the most precious voice and there is a deep sonority running throughout, a shared melancholy that underlies the subtle tension underneath the beautiful melodies. Joseph Bologne, Chevalier de Saint-Georges' Sonata for Two Violins in B-flat Major and Arvo Pärt's Fratres, on the other hand, offer a juxtaposition of lightness and darkness in a way that emphasizes the heart of each composition. Wright, who plays both violin parts in the sonata, is equally good in brilliant passages and lightheartedness of Bologne's music as she is in conveying the power of Fratres. Capturing the fleeting line between a moment and eternity, and opposing forces within oneself, the violin/piano version of Fratres is further enhanced by the beautiful acoustics on this recording. Beethoven's Sonata No.10 in G Major ties all the pieces together in an elegant sway of music ideas.