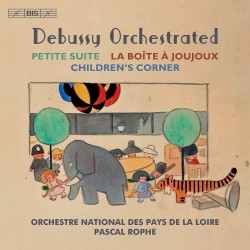 Debussy Orchestrated
Pascal Rophé; Orchestre National des Pays de la Loire
BIS BIS-2622 (naxosdirect.com/search/bis-2622)
Who better than a French orchestra – in this case, the Orchestre National des Pays de la Loire conducted by Pascal Rophé – to pay homage to the music of Claude Debussy in this delightful recording on the BIS label? Two of the works here – the Petite Suite and the Children's Corner Suite were originally composed for piano and later orchestrated by Henri Büsser while the ballet scenario La Boîte à joujoux (The Toy- Box) existed only in a piano version at the time of Debussy's death in 1918, but was later orchestrated by his friend André Caplet.
The four-movement Petite Suite from 1899 was inspired by the "fêtes galantes" paintings of Watteau and Fragonard as portrayed in poems by Paul Verlaine. The suite may have originated from a request for music that would appeal to skilled amateurs, and its simplistic and affable style stands in contrast to the more progressive music Debussy was creating at the time.
Debussy adored his young daughter "Chou-Chou" and she was undoubtedly the inspiration for the ballet-scenario La Boîte à joujoux devised by writer André Hellé. The plot in this highly descriptive six-movement score revolves around three principle characters, and in the end, love triumphs over adversity. It was for Chou-Chou that Debussy composed the Children's Corner Suite in 1908. More than 100 years later, the music continues to charm, with movements such as Serenade for the Doll, Jimbo's Lullaby and The Snow is Dancing, a poignant and wistful glimpse of childhood in a more innocent age. Throughout, the ONPL delivers a polished and elegant performance, at all times thoughtfully nuanced. This is a fine recording of some familiar (and less-than-familiar) repertoire. Debussy – and quite probably Chou-Chou as well – would have heartily approved!