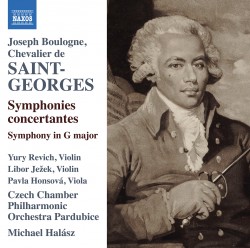 Joseph Bologne, Chevalier de Saint-Georges – Symphonies Concertantes, Opp.9, 10 & Op.11, No.1
Pavla Honsová; Michael Halász; Yury Revich; Czech Chamber Philharmonic Orchestra Pardubice; Libor Ježek
Naxos 8574306 (naxosdirect.com/search/+8574306)
An émigré to France, he was a brilliant swordsman, an accomplished musician and reputedly handsome – how could the French music-loving public not embrace such a well-rounded individual? Joseph Boulogne Chevalier de Saint-Georges was born in Guadeloupe in 1739, the son of a wealthy French landowner and a Black servant. He was taken to Paris at the age of ten where he studied with Gossec and by age 30, he was leader of the musical organization Le Concert des Amateurs. Saint-Georges was also a fine composer, and among his prolific output are several symphonies concertantes – concertos for more than one instrument. Four of them, Opp.9 and 10 scored for two violins (plus a viola in the Op.10) and orchestra are presented on this splendid Naxos recording featuring the Czech Philharmonic Chamber Orchestra Pardubice conducted by Michael Halász.
In style, this music owes much to Haydn and typically, these works have only two movements – a spirited allegro followed by a gracious rondeau. All of them contain attractive thematic material and ample opportunity for the soloists to display their technical ability. The two violinists – Russian-born Yury Revich, playing on a 1709 Stradivarius, and Libor Ježek, deputy leader of the Czech Chamber Orchestra – are joined by violist Pavla Honsová and together they comprise a formidable trio, delivering polished and assured performances in solid partnership with the CPCO.
The Symphony Op.11/1 is the first in a pair of symphonies first published in Paris in 1779. Again, the spirit of Haydn is ever-present – this could almost be a precursor to the "Paris" symphonies, and the performance – like the music itself – is refined and elegant.
A delightful recording of music deserving greater attention – Marie Antoinette would surely have approved!