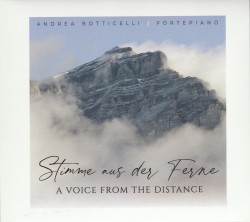 Stimme aus der Ferne – A Voice from the Distance
Andrea Botticelli
Independent 01 (andrea-botticelli.com)
Canadian pianist Andrea Botticelli developed an interest in historical instruments early on, and since then, has been the recipient of numerous awards and grants for her work and research into early performance practices. In this recording, titled A Voice from the Distance, she again opens the door to the past, presenting works by Schubert, Czerny and Schumann on a replica of an 1830s Viennese pianoforte.
The disc opens with Schubert's Sonata in A Major D664, music composed during the summer of 1819 when he was all of 22.This genial score is clearly that of a youthful composer and Botticelli displays particular warmth of tone and a fluid sense of rhythm and pacing. The music of Czerny is not often encountered today, but during his lifetime, he was renowned as a composer and pedagogue. His Variations on a Theme by Rode Op.33 is a fine example of his creative ability, the five variations a true study in contrasts and certainly not without considerable technical challenges. Schumann's charming suite, Papillons Op.2 from 1831, is intended as a musical depiction of a masked ball. Once again, Botticelli demonstrates a real affinity for the music and throughout the listener is struck with the robust and full sound she achieves on the instrument. Added bonuses are Clara Schumann's Notturno from her Soirées musicales Op.6 and the eighth movement from Schumann's Novelletten Op.21 which bring the CD to a fitting conclusion.
This disc is a delight. Not only does Botticelli deliver a compelling performance – breathing new life into traditional repertoire – but she proves without a doubt that Romantic-period repertoire is as satisfying to the ear when played on an early pianoforte as it is on a modern concert grand.