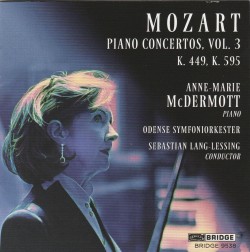 Mozart – Piano Concertos Vol.3 K449 & K595
Anne-Marie McDermott; Odense Symphoniorkester; Sebastian Lang-Lessing
Bridge Records 9538 (bridge-records.com)
This Bridge recording is the third in a series of Mozart piano concertos featuring American pianist Anne-Marie McDermott with the Odense Symphony conducted by Sebastian Lang-Lessing, this time presenting Concertos No.14, K449 and No.27, K595.
A graduate of the Manhattan School of Music, McDermott has earned a reputation as a consummate artist during the last 25 years, one who continues to appear in concert internationally both as a soloist and a chamber musician. Her first two recordings in this series were met with considerable critical acclaim and this one is equally impressive.
Written in 1784, K449 is regarded as the first of Mozart's mature works in the genre and was the first composition to be entered into a notebook of his music he retained for the next seven years. McDermott approaches the score with a thoughtful intelligence, her phrasing at all times carefully nuanced, while the Odense Symphony is a sensitive and formidable partner. The second movement andantino is all heartfelt lyricism while the optimistic and sprightly finale is carried out with great gusto.
Concerto No.27, Mozart's last contribution to the concerto form, his "swan song" so to speak, was probably written between 1788 and 1789, but the manuscript is dated January 5, 1791.Once again, McDermott's performance is wonderfully expressive, the brisker passages marked by an adept precision. Throughout, the warm strings and woodwinds under Lang-Lessing's skilfull baton further contribute to a most satisfying performance.
While recordings of Mozart piano concertos continue to be plentiful, this one – by an exemplary soloist and orchestra, both of whom deserve greater recognition – is a welcome addition and we can look forward to further editions in the series.