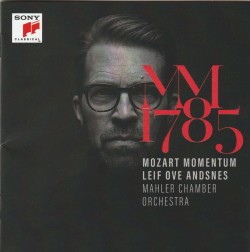 MM 1785 – Mozart Momentum
Leif Ove Andsnes; Mahler Chamber Orchestra
Sony 19439742462 (naxosdirect.com/search/194397424621)
1785 was a landmark year in Mozart's all-too-brief existence. He had finally achieved a degree of financial security, he commenced a period of tremendous creative energy and he was beginning to "push the boundaries" with respect to his musical style. This Sony two-disc set titled Mozart Momentum, is an intriguing presentation of seven works all composed that year – three piano concertos, the Piano Quartet K478, the Fantasia K475 and the Masonic Funeral Music K477 performed by Leif Ove Andsnes and the Mahler Chamber Orchestra.
The Piano Concerto No.20 – the first of two Mozart wrote in a minor key – took some time to be fully accepted by Viennese audiences, but they ultimately embraced it wholeheartedly. The overall theme of "light triumphing over darkness" clearly foreshadows the 19th century, and Andsnes with the MCO are a formidable pairing, delivering a polished performance.
Similarly, the Concertos No.21 and 22 (the latter the first to make use of clarinets) demonstrate a buoyant confidence – tempos in the outer movements are brisk but never rushed, the cadenzas are creative and there's a solid connection between soloist and orchestra.
For the G-Minor Quartet, Andsnes drew upon the principals from the ensemble and what a wonderfully intimate sound they produce! Here the listener is struck by the enthralling interplay of the musicians, particularly in the third movement scherzo where they engage in a true game of "cat and mouse" including a false ending before the jocular conclusion performed with great panache.
Andsnes sits on the sidelines for the brief Masonic Funeral Music but returns for the Fantasia in C Minor, a score that clearly anticipates Beethoven.
Kudos to all concerned – this set is a treasure, bound to be enjoyed for many years to come.