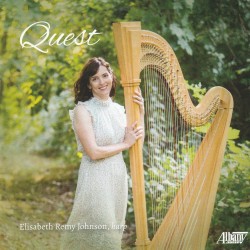 Quest
Elisabeth Remy Johnson
Albany Records TROY1863 (albanyrecords.com)
This compelling new recording from world-renowned principal harpist (Atlanta Symphony) Elisabeth Remy Johnson, is a magnificent celebration of not only the harp itself, but of 12 radiant female composers. Both historic and contemporary artists are represented here by way of Johnson's transcriptions of venerable piano works by Cécile Chaminade (Aubade – 1911), Amy Beach (A Hermit Thrush at Morn – 1921), Mel Bonis (Cinq Morceaux – 1894 to 1927), Fanny Mendelssohn Hensel (Mélodie – 1846), Clara Wieck Schumann (Romanze – 1853) and Lili Boulanger (D'un vieux jardin – 1914). Contemporary contributers to this superb collection include Australian flutist/composer Johanna Selleck, British composer Freya Waley-Cohen, British violist/composer Sally Beamish and Canadian composer Kati Agócs.
The title track is by contemporary Iranian-American pianist/composer Niloufar Nourbakhsh. Written in 1992, the composition reflects Nourbakhsh's thoughts and feelings as she embarked on her "quest" of becoming a composer. Delicate, gossamer and provocative, this world-premiere recording and transcription for solo harp is nothing short of breathtaking. Aubade has a whimsical aspect, made even more magical when performed on harp and A Hermit Thrush at Morn embodies contemporary motifs in classical music that were just beginning to come into focus in the 1920s. Of special beauty and elegance is the five-movement Cinq Morceaux, as is D'un vieux jardin where the listener experiences a stunning, Parisian garden gently emerging out of the mist.
The contemporary pieces presented here are no less notable, particularly Agócs' Every Lover is a Warrior and Waley-Cohen's Skye. This is a recording to be savoured, just like all of the works of the brilliant female artists who have contributed to Johnson's laudible recording, infused with her incredible skill and taste.