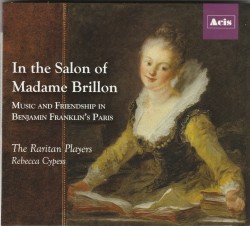 In the Salon of Madame Brillon – Music and Friendship in Benjamin Franklin's Paris
The Raritan Players; Rebecca Cypess
Acis APL40158 (acisproductions.com)
This inspired new recording from the noted Raritan Players was conceived and directed by pianist and scholar Dr. Rebecca Cypess, and is the result of arduous research and performances. The project is focused on the pre-Revolutionary War Parisian hostess, patroness and composer, Anne-Louise Boyvan d'Hardancourt Brillon de Jouy (1744-1824), and on both her musical canon and the sparkling workings of her fabulous, fashionable and elite Parisian salon. Her luminous guests were drawn from the rarified worlds of music, art, philosophy and diplomacy – including her flirty pen pal Benjamin Franklin (then U.S. Ambassador to Paris).
There are seven world-premiere recordings here, which include Brillon's duet for harpsichord and square piano (performed on a rare 1780 English instrument by Johannes Zumpe). All selections have been performed on period instruments and feature not only Brillon's work, but music preserved in her personal collection, including compositions dedicated to her by the iconic cellist Luigi Boccherini.
Of particular beauty in this heady bouquet are Boccherini's Sonata No.4 in D Major from Sei Sonate di Cembalo e Violino – particularly the Andante, which explores the gorgeous and unexpected, natural sonic symmetry of the violin and harpsichord. Brillon's own Sonata No.4 in G Minor is a fresh-sounding and compelling work, and in the Andante con espressione, the square piano resonates with passion and urgency – engulfing the length of the keyboard. Henri-Joseph Rigel's three-movement piece for piano and harpsichord, Duo No.2 in C Minor is a spine-tingling celebration of musical possibilities.
Constrained by the societal restrictions of her day, Brillon, who nearly disappeared from history, manifested an international life of artistic and historical significance that still resonates today.