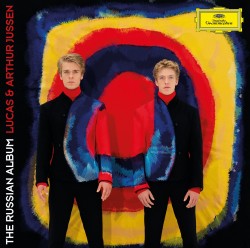 The Russian Album
Lucas & Arthur Jussen
Deutsche Grammophon (arthurandlucasjussen.com/en)
Music scored for two pianos has had an illustrious history – Bach, Mozart and Brahms all wrote compositions for multiple keyboards – and this new recording on the DG label featuring the brothers Lucas and Arthur Jussen performing an all-Russian program is further proof of its integrity.
Hailing from Hilversum in the Netherlands, the two brothers – both under 30 – studied with Maria Joäo Pires, made their debut at the ages of 10 and 13, and signed a contract with DG in 2010 while still in their teens. Performances in Europe and the U.S. have received rave reviews and this is their seventh (!) recording.
Shostakovich wrote his brief Concertino for Two Pianos Op.94 in 1954 for his son – then a student at the Moscow Conservatory – with an eye to performing it together. In keeping with the youthful theme, much of the score is vigorous and lighthearted, providing the two artists ample opportunity to demonstrate flawless technique.
Following are three contrasting movements from Rachmaninoff's Suite No.2 Op.17. While the second movement Waltz and concluding Tarantella are frenetic perpetuum mobiles, the third movement Romance is all heartfelt lyricism. Two movements from Stravinsky's 1935 Concerto for Two Pianos is another indication that these two artists seem to thrive on repertoire requiring an almost super-human prowess. At all times, the two demonstrate not only an innate understanding of the music, but a seemingly telepathic connection with each other, performing as one.
The disc closes in a lighter vein – the Coquette and the Valse from Arensky's Suites Nos.1 and 2 for two pianos prove a fitting conclusion to a most satisfying program.