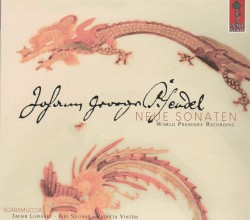 Johann Georg Pisendel – Neue Sonaten
Scaramuccia
Snakewood Editions SCD202001 (snakewoodeditions.com)
The name Johann Georg Pisendel is perhaps not all that familiar today, but during his lifetime he was highly acclaimed as a violinist and concertmaster. Born near Nuremberg in 1687, Pisendel studied at the Royal Chapel at Ansbach where among his teachers was Giuseppe Torelli. He continued his studies in Leipzig and ultimately enjoyed a long and successful career in Dresden as leader of the Dresdner Hofkapelle, an ensemble that won the praise of no less a figure than J.S. Bach.
Pisendel's own output was small, but among his compositions are four chamber sonatas scored for violin, cello and continuo, discovered in the immense assemblage of scores that he amassed during his lifetime and which now comprises the esteemed Schrank II collection in the library of Dresden University. These Neue Sonaten are presented here for the first time ever on this splendid Snakewood label disc performed by the ensemble Scaramuccia.
Under the leadership of director/violinist Javier Lupiáñez (performing on a 1682 instrument), the four-movement miniatures truly come alive – what a joyful sound these musicians produce! Lupiáñez's skilful playing – his phrasing always carefully articulated and artfully nuanced – is complemented by the solid performances of cellist Inés Salinas and harpsichordist Patricia Vintém. Many of the ornamentations in the form of cadenzas and passagework were added by the musicians themselves, based on a thorough study of Pisendel's performance practices. Indeed, the melding of Pisendel's solid compositional style exemplified in these recently discovered works with Scaramuccia's careful and intelligent approach is a fortuitous one. An added bonus is a charming but anonymous harpsichord sonata in D Major that Vintém performs with much flair.
The attractive slipcase and artwork further enhance an already appealing disc.