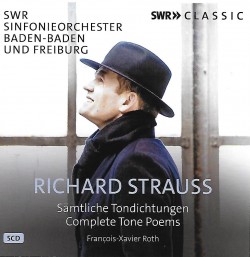 Richard Strauss – Complete Tone Poems
SWR Sinfonieorchester Baden-Baden and Freiburg; François-Xavier Roth
SWR Music SWR19426CD (naxosdirect.com/search/swr19426cd)
When searching for the performance of Also Sprach Zarathustra that would mightily reinforce the opening of 2001, A Space Odyssey, Stanley Kubrick finally selected, presumably on its impact, the Decca version with the Vienna Philharmonic conducted by Herbert von Karajan. After much negotiating, it was agreed that Kubrick may use that performance under the condition that it is never identified (perhaps I should have prefaced with "spoiler alert"). I am quite sure that if that were today, the power of the vehement timpanist in the opening of the SWR version in this outstanding new set could very well be the choice.
At the helm is François-Xavier Roth, the French conductor who is best known as the director of Les Siècles, an original instrument orchestra that he founded in 2013, and which has recorded many stunning versions of Baroque and early-20th-century favourites, including Stravinsky's Le Sacre du Printemps. Among his myriad appointments and awards are general music director of the City of Cologne and principal guest conductor of the London Symphony Orchestra. Undoubtedly his activities in the field of historically informed performance have attuned his ear to ensure every instrument in the orchestra is audible as these performances of familiar and perhaps less familiar tone poems demonstrate. They are Ein Heldenleben, Sinfonia Domestica, Also Sprach Zarathustra, Tod und Verklärung, Metamorphosen, Don Juan, Don Quixote, Eine Alpensinfonie, Till Eulenspiegels lustige Streich, Aus Italien and Macbeth. Strauss is well served by performances of commitment and intensity, passages where winds, brass and percussion appear… not spot-lit but there. The perfectly recorded performances dating from 2012 to 2015, as in earlier recordings from this source, are convincingly live.
Roth's same meticulous attention to detail and perfect balances may be viewed and heard conducting different orchestras in diverse repertoire on the optional music channels available on cable TV and YouTube.