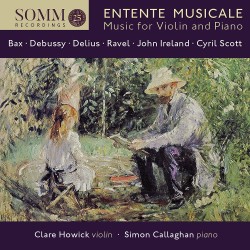 Entente Musicale – Music for Violin and Piano
Simon Callaghan; Clare Howick
SOMM Recordings SOMMCD 0625 (naxosdirect.com/search/sommcd+0625)
Entente translates as a friendly understanding or informal alliance between two people or states. SOMM has titled a new CD Entente Musicale, which qualifies appropriately the collaboration of violinist Clare Howick and pianist Simon Callaghan and indirectly, the English and French repertoire included. Howick is acknowledged as being in the forefront of a generation of inspired violinists. The Strad is not stinting in their praise, finding her "playing with beguiling warmth and affection." The American Record Guide qualifies her as "simply spectacular." Callaghan has been commended in The Strad for his "velvet-gloved pianism of ravishing sensitivity." Together they give shining performances of these well-chosen works: Delius – Violin Sonata in B Major; Cyril Scott – Cherry Ripe and Valse Caprice; Debussy – Violin Sonata in G Minor; John Ireland – Violin Sonata No.1 in D Minor; Ravel – Pièce en forme de Habañera; Bax – Mediterranean.
Some of the works may be familiar and others will surely find new fans. New to me is the Delius sonata, published after his death. Delius, born in Bradford, Yorkshire in 1862 but preferring to live in France, had three violin sonatas published, but this one, written in 1892-93 in Paris where he had taken up residence in 1888, was turned down by his publisher. Perhaps it was because of the unusual key of B Major, muses the author of the comprehensive booklet. Delius held on to it and here it is. The first movement, Allegro con brio, is dramatically optimistic. The second movement, Andante moto tranquillo, is typical Delius and exquisite beyond words, resolving in the third movement, Allegro con moto. The duo plays the Jascha Heifetz arrangements of the Ravel Pièce and the joyful Bax Mediterranean.