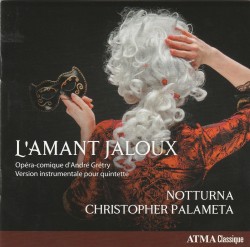 André Grétry – L'Amant jaloux
Notturna; Christopher Palameta
ATMA ACD2 2797 (atmaclassique.com/en)
Among the most successful operatic composers in 18th-century France was Belgian-born André-Ernest Modeste Grétry (1741-1813). After studying in Rome, he arrived in France in 1767, and during the next 40 years, he enjoyed a career as a renowned composer and pedagogue.
Given the success of Grétry's operas, and in keeping with the popular custom of the time, it was only natural that much of his dramatic music would eventually make its way from the opera house to both private salons and public gardens in the form of arrangements for small ensemble. It's such an arrangement of music from his opera L'Amant jaloux (The Jealous Lover) that comprises the bulk of this fine ATMA recording featuring the six-member Montreal-based ensemble, Notturna, directed by oboist Christopher Palameta. The arranger is unknown, but it's thought it may have been Grétry himself.
L'Amant jaloux was Grétry's 23rd opera comique and met with resounding success when premiered in Versailles in 1778. While no doubt the score is unfamiliar to modern-day listeners, the music of this well-crafted arrangement is gracious and melodic, while maintaining the spirit of the vocal originals. Throughout, Notturna delivers a polished performance with a fine balance among the instruments.
Following the suite is a quartet for oboe, violins and bass by François-André Phlidor and a brief ballet movement from Grétry's 1783 opera La Caravane du Caire. Palameta's sonorous and well-rounded tone further enhances this brief chamber-piece from 1755, while the closing ballet is a fine example of French courtly dance music before the fall of the Ancien Régime.
Kudos to Palameta and Notturna not only for some fine playing, but for helping bring to light some music that otherwise may have been overlooked.