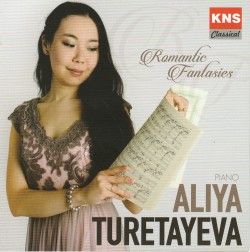 Romantic Fantasies
Aliya Turetayeva
KNS Classical KNS A/090 (aliyaturetayeva.com)
Schumann was the quintessential Romantic composer – a dreamer and idealist who particularly excelled at short forms such as art songs and piano pieces. Yet his symphonies and larger piano works attest to his proficiency with more extended compositions. This disc, with the young Kazakhstan-born pianist Aliya Turetayeva, portrays Schumann as both miniaturist and as a composer of larger canvases, presenting two of the most renowned pieces of the Romantic period repertoire, the Sonata in G Minor Op.22 and Kreisleriana Op.16.
The piano sonata – his last contribution to the form – was composed between 1830 and 1838 and has long been known for its technical demands. From the outset, it's clear that Turetayeva is in full command of this daunting repertoire, but in no way is this empty bravura. The first movement is marked So Rasch wie möglich ("as fast as possible") and while her tempo is brisk, it's never frenetic, her phrasing carefully articulated. The second-movement Andantino is suitably lyrical and the fourth-movement Rondo: Presto demonstrates a bold confidence.
Schumann's set Kreisleriana was written in 1838 but thoroughly revised a dozen years later. Inspired by E.T.A. Hoffmann, it comprises eight highly contrasting movements. Turetayeva approaches the score with the same thoughtful intelligence, convincingly addressing the various moods throughout, from the gentleness of the fourth movement (Sehr langsam) to the agitated energy of No.7 (Sehr rasch).
The gently rollicking finale, with its slight sense of the macabre, is never easy to bring off – but Turetayeva handles it adroitly, thus bringing the set, and the disc, to a most satisfying conclusion.
This young artist is on the brink of great success and here's hoping we'll hear more from her in the near future.