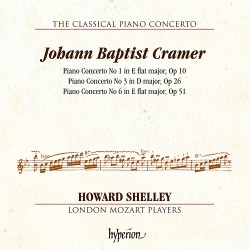 Johann Baptist Cramer – Piano Concertos 1, 3 & 6
Howard Shelley; London Mozart Players
Hyperion CDA68302 (hyperion-records.co.uk)
Apart from his piano Etudes Op.84 – for many years a staple in piano pedagogy – the name Johann Baptist Cramer is not all that well known today. A year after his birth in Mannheim in 1771, his father – himself a renowned violinist and conductor – moved the family to London to take advantage of the thriving musical life there. The move was clearly a fortuitous one, for over the course of his long lifetime, Cramer earned a reputation as a virtuoso soloist, composer and pedagogue. In light of his sizable output, he is definitely a composer worth re-exploring and who better to do it than the London Mozart Players with Howard Shelley both directing and performing three piano concertos on this Hyperion recording, the sixth in the Classical Piano series.
The Concertos No.1 and 3 in in E-flat and D Major respectively, were completed in the 1790s and stylistically straddle the classical and Romantic periods. While both were perhaps written with an eye to demonstrating Cramer's technical prowess, the musical style is gracious and spirited, further enhanced by Shelley's technically flawless performance and the LMP's solid accompaniment.
The Concerto No.6 dates from around 1813. By that time, Beethoven had completed his seventh symphony and Wellington's Victory. Yet any traces of the new Romantic spirit in this concerto are marginal – clearly Cramer wasn't about to abandon a means of expression that had successfully served his purpose. Once again, Shelley and the LMP comprise a convivial pairing, particularly in the buoyant Rondo finale which brings the concerto and the disc to a satisfying conclusion.
So a hearty bravo to Howard Shelley and the LMP for once again shedding light on some fine music that might otherwise have been overlooked. As always, we can look forward to further additions to the series.