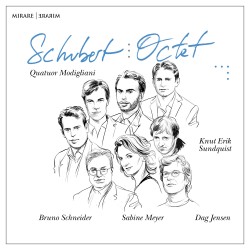 Schubert – Octet
Quatuor Modigliani; Bruno Schneider; Sabine Meyer; Dag Jensen; Knut Erik Sundquist
Mirare MIR4438 (mirare.fr)
When Schubert took on a commission request in 1824 to compose a piece similar to Beethoven's Septet, he was in a vulnerable place in his life – his physical health was poor, he was experiencing bouts of depression and his music was not getting the recognition he was hoping for. Yet he wrote the largest-scale chamber music work of his opus and it did not reflect the intensity of his life at the time. The Octet is pure Schubert magic – full of abundant solo lines for each of the eight instruments, beautiful, elegant and uplifting. Although this piece has a similar instrumentation and basic structure to Beethoven's Septet, perhaps Schubert's biggest nod to Beethoven comes through the achievement of great creativity and layers of expression in the midst of suffering.
The Modigliani Quartet and their respective colleagues, Sabine Meyer (clarinet), Bruno Schneider (horn), Dag Jensen (bassoon) and Knut Erik Sundquist (double bass), take on this magical piece with an understated gusto. Almost an hour long and consisting of six movements, Schubert's Octet requires unrelenting drive and imagination, both of which came through in the fabulous artistry of the ensemble. Their performance has a wonderful combination of intensity and lightness that kept me both relaxed and at the edge of my seat. This ensemble has enjoyable synergy that is most obvious in a unity and refinement of their interpretative ideas and sound.