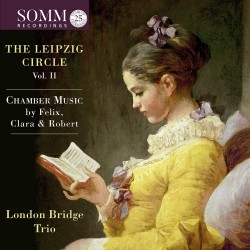 The Leipzig Circle Vol.II – Chamber Music by Felix, Clara & Robert
London Bridge Trio
Somm Recordings SOMMCD 0619 (naxosdirect.com/search/748871061927)

Leipzig – like Vienna, a city of music! Not only did Bach reside there as cantor at the Thomaskirche for 27 years, but the city also witnessed the birth of Clara Schumann, the arrival of her husband from Zwickau to study law (but later, piano), and the arrival of Mendelssohn to conduct the renowned Gewandhaus Orchestra. Such is the basis for this splendid recording on the Somm label, the second one to feature the London Bridge Trio, this time performing piano trios by Mendelssohn and Robert and Clara Schumann.
Mendelssohn's Piano Trio Op.49 – his first of two – was composed in Leipzig in 1839, and has long been regarded as a supreme example of the genre. The impassioned first movement is all freshness and spontaneity, the intricate interplay deftly handled by the three performers. The second movement is a true song without words, while the scherzo and allegro finale contain the graceful brilliance that so typifies Mendelssohn's chamber style.
Clara Schumann enjoyed a long career as an outstanding concert pianist, but her own compositions remain unjustifiably neglected. Nevertheless, her Trio Op.17 – considered by many to be her greatest work – demonstrates great originality and not surprisingly, a formidable piano part, adroitly handled by Daniel Tong.
From the buoyant exuberance of the first movement, the heartfelt lyricism of the second and the cheerful optimism of the finale, Robert Schumann's Trio Op.80 from 1847 truly embodies the Romantic spirit – little wonder the piece has earned such high praise over the years. Throughout, the London Bridge Trio performs with great panache, demonstrating a sensitive but confident approach in this most intimate repertoire. This disc is a delight!