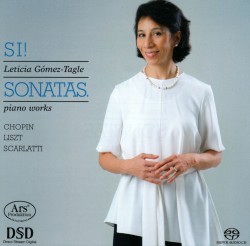 Si! Sonatas
Leticia Gómez-Tagle
ARS Produktion ARS38270 (leticiagomeztagle.no-te.com)
Sonatas by Chopin, Liszt and Domenico Scarlatti are featured on this Ars Produktion recording titled Si! Sonatas with Mexican-born pianist Leticia Gómez-Tagle. While most of us realize the word "Si" is Spanish for "yes" it also refers to B minor, the key in which all three pieces were written. The title was chosen by the artist herself, but even without the play on words and tenuous connection, the program is an attractive one.
Chopin's Sonata No.3 Op.58 was completed in 1844, a time when the composer was at the height of his creative powers. The piece has long been regarded as one of his most difficult, not only with respect to the technical demands, but also to nuance. To say the least, Gómez-Tagle rises to the challenges in a very big way. She delivers an elegant and polished performance, her formidable technique further enhanced by a beautiful tone and fine use of phrasing.
The Sonata in B Minor by Franz Liszt is acknowledged as one of the powerhouses of 19th-century piano repertoire; fiendishly difficult, the piece presents technical challenges even greater than those of the Chopin sonata. Again – and not surprisingly – Gómez-Tagle meets the demands with apparent ease, creating a mood of thrilling dramatic intensity throughout.
In total contrast to the two Romantic giants is an encore – the Scarlatti Sonata K87, a gentle miniature written a century earlier. Here, Gómez-Tagle's delicate and precise approach is clear evidence that she is as comfortable with Baroque repertoire as she is with that from later periods. Superb sound quality throughout further enhances an exemplary recording. Highly recommended.