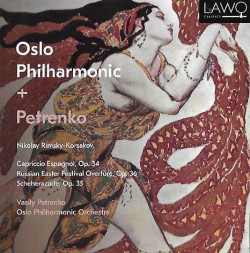 Rimsky-Korsakov – Capriccio Espagnol; Russian Easter Festival Overture; Scheherazade
Oslo Philharmonic Orchestra; Vasily Petrenko
LAWO LWC1198 (naxosdirect.com)
Some years ago, the owner of a new record company asked an experienced A&R man, "How do you know what to make?" The answer? "Look for the composition that has the most recordings and make one more." It seems that advice is still being heeded, not only in repertoire but also with conductors.
Three so often recorded staples are given new life in these performances directed by Vasily Petrenko who is not to be confused with the Petrenko in Berlin, Kirill. Vasily has been conductor of the Oslo Philharmonic Orchestra since 2009 and conducts and records with other orchestras earning enthusiastic reviews. He now has 52 CDs out there, including 16 devoted to Shostakovich.
The immediate exuberance of the Alborada opening of Capriccio Espagnol is a real attention-getter and sets the level of enthusiasm expected from the orchestra throughout the program. The Russian Easter Festival moves from Saturday's religious zeal to Easter Sunday's celebrations. I certainly did not expect to linger on any passages in Scheherazade and yet listening to this familiar favourite afresh was an unexpected pleasure. This finely detailed performance demonstrates why Rimsky-Korsakov was regarded by his peers as Russia's supreme orchestrator.
As to be expected, the sound is state of the art.