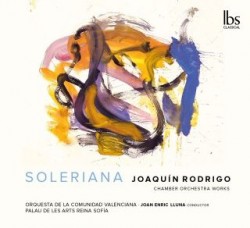 Soleriana – Joaquín Rodrigo Chamber Orchestra Works
Orquesta de la Comunidad Valenciana; Joan Enric Lluna
IBS Classical IBS-82020 (ibsclassical.es)
Joaquín Rodrigo (1901-1999) was without question one of Spain's most prolific 20th-century composers, and rather ironically, aside from his international hit Concierto de Aranjuez, much of his work, including a dozen other concertos and over 170 additional compositions, remains largely unknown. The title of the CD is Soleriana – not only the title of the first work represented, but also a noun of gravitas profundo, one used frequently by Rodrigo to describe "purity of the Spanish cultural heritage, undiluted by European influence." Although Rodrigo was closely identified with European neo-classicism of the 1930s, he imbued his works with many indigenous elements of traditional Spanish forms, particularly dances. This recording presents works composed between 1926 and 1953, and is performed by the noted Orquesta de la Comunidad Valenciana, under the skilled baton of Joan Enric Lluna, The exquisite recorded performance took place in front of an enraptured audience at the Palau de les Arts Reina Sofia.
The title work is comprised of Entrada, where tender bassoons and oboes are joined by complex Baroque patterns utilizing all the colours of the ensemble; the regal, stirring Fandango; Tourbillon with its superb use of vigorous, passion-filled and insistent cellos and basses; and Pastoral, which is almost spiritual in its musical purity. Imagery of stunning, natural sites is embedded in the music, and the final movement, Passepied features delicious entanglements of strings and woodwinds.
Two additional pieces are both breathtakingly beautiful celebrations of musical dance motifs and structure: Tres Viejos Aires de Danza and the closing, Zarabanda Lejana y Villancico. This fresh, invigorating and masterfully performed project is both an acknowledgment of an overlooked artist and a marvelous celebration of Spanish culture.