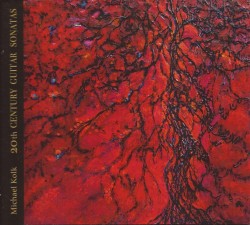 The only problem with my reviewing CDs by guitarist Michael Kolk is that I keep running out of superlatives, and his latest disc – 20th Century Guitar Sonatas – presents the same welcome problem (michaelkolkguitar.com).
There are several connecting themes with the works here. Both the Sonata para guitarra from 1933 by the Spanish composer Antonio José (born in 1902 and a victim of the fascist regime in 1936) and the 1927 Sonatina by Cyril Scott (1879-1970) were the only works those composers wrote for guitar. In addition, both works were unknown or lost until their relatively recent publications, the José in 1990 and the Scott in 2002.
This also applies to the 1994 Sonate in A Minor by the Austrian composer Ferdinand Rebay (1880-1953), most of whose solo and chamber guitar music has only recently been discovered. The 1967 Sonata No.1, the first of three by the Argentinian composer Carlos Guastavino (1912-2000) completes an outstanding recital.
Technically Kolk – as always – seems faultless, but it's the range of tone, colour and dynamics as well as the constant sense of a highly developed musical intelligence and an innate understanding of and feel for form, line and phrase that continually impresses. Beautifully recorded in the Church of Saint Mary Magdalene in Toronto and engineered by Kolk's duo partner Drew Henderson, it's another masterclass in guitar performance.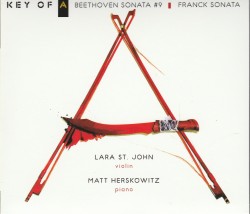 Violinist Lara St. John has always been a bit of a free spirit and not afraid to take risks, so you would be safe in assuming that her latest CD, Key of A, featuring Beethoven's Violin Sonata No.9 in A Major, "Kreutzer" and the Franck Violin Sonata in A Major with pianist Matt Herskowitz (Ancalagon ANC144 larastjohn.com), would be anything but routine playing.
St. John says she wanted a pianist "free of traditional ideas" for the Franck, and one who would "be able to keep up with the extremes" she envisioned for the Beethoven, tempo and volume-wise. Well, she certainly got her wish with the brilliant Herskowitz. The Beethoven features breathtaking tempos for the two outer movements with a wide dynamic range, St. John using portamento and an almost violent attack at times, with Herskowitz matching her step for step. It's hair-raising stuff.
The Franck features almost decadently Romantic playing, with St. John never afraid to pull things around in the tempestuous second movement, sounding almost improvisatory in the third and never resorting to the usual merely smooth and flowing melodic line in the canonic finale. It's not often that this piece sounds different, but this is risk-taking at its best and most exciting, with tremendous piano work from Herskowitz.
Fritz Kreisler's Schön Rosmarin completes a quite startling CD.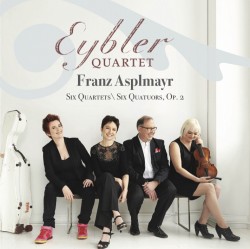 The Eybler Quartet is back with another superb 2CD set of works by a neglected 18th-century composer, this time Franz Asplmayr Six Quartets, Op.2, early works by the Austrian composer who lived from 1728 to 1786 (Gallery Players of Niagara GPN20001 galleryplayers.ca/shop/music).
Although best known for his theatre works, Asplmayr produced 41 symphonies, 70 trios and 43 string quartets, the six four-movement works here – in G, D, F, E, C and E-flat majors – described in Patrick Jordan's erudite and insightful notes as being "wonderfully unique and highly underappreciated." They were published by Huberty in Paris in 1769, although probably written much earlier.
The Eybler players are in top form again, displaying their customary perfect ensemble, faultless intonation and vitality and warmth, with technique to burn. Recorded at the Glenn Gould Studio in Toronto, sound and balance are both ideal in simply delightful performances.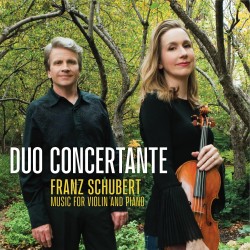 The superb Duo Concertante husband-and-wife team of pianist Timothy Steeves and violinist Nancy Dahn add another stellar CD to their discography with Franz Schubert Music for Violin and Piano (Marquis Classics MAR611 marquisclassics.com).
The duo's trademark musical qualities – perfect ensemble, clarity, tone, a fine grasp of phrase and form, and an exquisite sensitivity – are all fully evident in a recital consisting of the Fantasy in C Major Op.159 D934, the Sonata in A Major Op.162 D574 and the Rondo in B Minor Op.70 D895. These works are available digitally as well as on CD, while the three Sonatinas Op.137: No.1 in D Major D384; No.2 in A Minor D385; and No.3 in G Minor D408 are available only from streaming and download services.
In another Glenn Gould Studio recording the sound and balance are ideal, capturing every nuance of Steeves' rich piano and Dahn's expressive and distinctive violin. In the booklet notes the players comment on the vocal quality of Schubert's melodic writing. It's a clear insight into their approach to this recording project, for it's a CD that sings from beginning to end.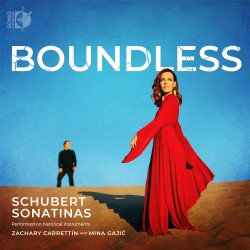 The three Schubert Sonatinas are also featured on Boundless – Schubert Sonatinas Performed on historical instruments, a new Sono Luminus CD with another husband and wife team, violinist Zachary Carrettín and pianist Mina Gajić (DSL-92240 sonoluminus.com/store/boundless). Carrettín plays a rare Franz Kinberg violin with gut strings, set up for late classical and early-Romantic performance, and uses a late classical John Dodd pre-Tourte bow c.1800. Gajić's piano is an Érard concert grand from 1835.
We're obviously in another sound world here, with less power and different sonority in the piano and less vibrato from the violin, which sounds a bit drier but not necessarily softer. The playing is top-notch technically, with accuracy and agility, but despite the different tonal colours it tends to lack the warmth of the Duo Concertante sound.
It's clearly closer to what Schubert would have heard in his lifetime, though, the performers describing the choices regarding pedalling, chord voicing, balance, articulation and score indications as a fascinating exploration as they sought – successfully, clearly – to pay homage to the original intent as well as to the authentic sounds.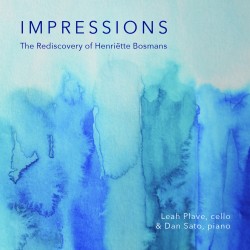 Impressions – The Rediscovery of Henriëtte Bosmans (leahplave.com/media) is the debut album from McGill graduate cellist Leah Plave, accompanied by pianist Dan Sato.
Bosmans (1895-1952) was a distinguished Dutch pianist and composer who was much admired in her time. As a bisexual Jewish woman her music was banned by the Nazis, but she kept performing and composing in secret. For many years following her death her music remained virtually unknown, even in the Netherlands.
Plave's CD contains Bosmans' complete works for cello and piano, music that reflects a personal style that mixed German Romanticism with French Impressionism. The 1919 Cello Sonata is a four-movement work with a strong, brooding opening movement. The Trois Impressions from around 1926 – I. Cortège; II. Nuit Calme; and III. En Espagne – feature a quite lovely middle movement and some dazzling piano writing in En Espagne that not only reflects Bosmans' abilities as a pianist but also draws terrific playing from Sato.
Two short pieces – Chanson and the lovely Arietta – complete the CD. Plave gives effective and committed performances, strongly supported by Sato's fine accompaniment.
Interestingly, all nine tracks appear to be available on YouTube under Top Tracks – Leah Plave.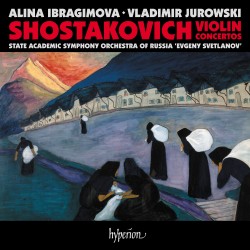 There's another terrific CD of the two Shostakovich Violin Concertos, this time with the brilliant and always exciting Alina Ibragimova with the State Academic Symphony Orchestra of Russia 'Evgeny Svetlanov' under Vladimir Jurowski (Hyperion CDA68313 hyperion-records.co.uk/dc.asp?dc=D_CDA68313).
The Concerto No.1 in A Minor Op.77 was written for David Oistrakh in 1947/48, but withheld due to the infamous Zhdanov decree and not premiered until October 1955. It's a four-movement work, with an ethereal, uneasy opening Nocturne, a demonic Scherzo and a massive central Passacaglia leading to the famous, towering solo cadenza. Ibragimova is superb throughout, opting to play the opening theme of the following grim-humoured Burlesque on the violin, as originally scored by Shostakovich before he re-scored it for orchestra alone at Oistrakh's request to enable the soloist to at least wipe his brow. It's the first commercial recording thus.
The Concerto No.2 in C-sharp Minor Op.129 was written in 1967 for Oistrakh's 60th birthday, albeit a year early. There's simply beautiful playing from Ibragimova in the middle movement, and another tough cadenza handled superbly.
Great sound, great balance, dazzling playing and interpretation all add up to an outstanding disc.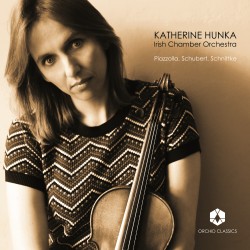 Violinist Katherine Hunka is the soloist as well as the director of the Irish Chamber Orchestra on a new CD of music for strings by Piazzolla, Schubert and Schnittke (Orchid Classics ORC100130 orchidclassics.com/releases/orc100130-irish-chamber-orchestra-katherine-hunka).
Leonard Desyatnikov's arrangement of Piazzolla's hauntingly beautiful The Four Seasons of Buenos Aires adds direct quotes from Vivaldi's Four Seasons in what is almost a recomposition. The resulting work is extremely effective, drawing sumptuous playing from Hunka that is stylistic, warm and impassioned. The ensemble matches her in a vividly successful re-imagining of Piazzolla's highly personal sound.
Schubert's lovely Rondo in A Major for Violin and String Orchestra D438 shows clear influence of Mozart's violin concertos. The Schnittke work is Moz-Art à la Haydn from 1977, described in the notes as combining "an unfinished fragment by Mozart – his Pantomime Music K446 – with the theatricality of Haydn's Farewell Symphony." The noise of the players changing positions is deliberately audible, complete with heavy footsteps, wailing and crying!
A beautifully idiomatic performance of Oblivion, one of Piazolla's most celebrated and traditional tangos, provides a lovely close to an excellent CD.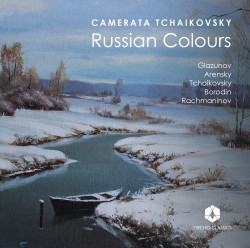 The London-based Russian violist Yuri Zhislin is the conductor and arranger as well as the soloist on Russian Colours, a CD of music from the Russian Romantic era arranged for string orchestra and featuring his own ensemble, the Camerata Tchaikovsky (Orchid Classics ORC100136 orchidclassics.com/releases/orc100136-camerata-tchaikovsky-2).
Zhislin is the fine soloist in his own transcription of Alexander Glazunov's Concerto in E-flat Major for Alto Saxophone and String Orchestra Op.104 from 1934, a fairly brief four-movement work that doesn't appear to lose anything in the transcription, the warmth of the viola – especially in the middle register – being very close to the saxophone timbre.
Anton Arensky's three-movement String Quartet No.2 in A Minor Op.35 from 1894 is the other major work, its second movement Variations on a Theme by Tchaikovsky proving so popular that Arensky himself arranged it for string orchestra as Op.35a. It's the only track on the CD not arranged by Zhislin.
Three perennial favourites complete a beautifully played and highly enjoyable CD: the Andante from Tchaikovsky's String Quartet No.1 from 1871; Borodin's Nocturne from his 1881 String Quartet No.2; and Rachmaninoff's 1912 Vocalise Op.34.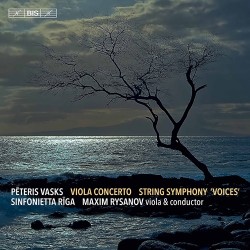 Maxim Rysanov is the viola soloist and also conductor of the Sinfonietta Riga on Viola Concerto/String Symphony 'Voices' featuring music by the Latvian composer Pēteris Vasks (BIS 2443-SACD naxosdirect.com/items/peteris-vasks-viola-concerto-symphony-no.-1-voices-533230).
The Concerto for Viola and String Orchestra from 2014/15 was dedicated to Rysanov and premiered by him in 2016; the performance here is a world premiere recording. It's a quite beautiful, highly tonal and deeply emotional work, in which Vasks "returns to two essential concepts: chant and monologue." The opening movement rises to the heights of serenity and despair, with the second movement a joyful – but still minor-key – contrast. Despair seems to be the dominant factor in the final two movements.
The Symphony for Strings was written in 1991 as Latvia, Estonia and Lithuania were breaking free from the crumbling Soviet Union. "The new beginning was difficult," says Vasks. Certainly the work reflects that feeling, with tenuous openings to both the first and the fairly hostile middle movement, followed by a quite brutal third movement which eventually dies away to nothing.