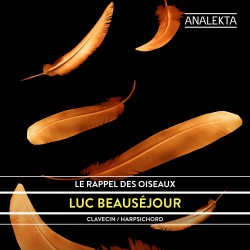 Le Rappel des Oiseaux
Luc Beauséjour
Analekta AN 2 8797 (analekta.com/en/albums/le-rappel-des-oiseaux-luc-beausejour)
Now here's a real treat: a full course of tastefully chosen Baroque miniatures of the aviary art from a rich trove of 18th-century French harpsichord works by Rameau, Couperin, D'Agincour, Daquin, Dornel, Duphly, Dandrieu and Février. The love of birds would seem to be a Gallic specialty, whether it be imitative (Messiaen reigns supreme in the 20th century) or allegorical; all are amply stuffed with scrumptious ornaments for your delectation. Hens, cuckoos, nightingales and swallows abound, along with the amorous adventures of the turtle doves.
Luc Beauséjour is well known for his mastery of the Baroque keyboard repertoire and has released over 35 recordings throughout his career. He performs here on a harpsichord from the Montreal atelier of Yves Beaupré, a sweet two-manual instrument modelled after a 1681 design by Vaudry, expertly recorded by Carl Talbot.
Speaking of birds, the quills of this harpsichord are fashioned from the feathers of indigenous Canada geese, which Beauséjour carves himself. It's finger-lickin' good.
Daniel Foley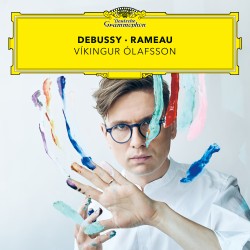 Debussy; Rameau
Víkingur Ólafsson
Deutsche Grammophon 4837701 (deutschegrammophon.com/en/artists/vikingur-olafsson)

Fresh on the heels of last year's array of accolades and honours, the young Icelandic pianist, Víkingur Ólafsson, has just released his third record on the Deutsche Grammophon label. He is known for communicative and colouristic prowess, winning the hearts and ears of many listeners with uncommon interpretations of keyboard music by J.S. Bach and Philip Glass.
For this new album, Ólafsson interweaves short pieces by Jean-Philippe Rameau and Claude Debussy – repertoire written nearly 200 years apart – in a winsome, 28-track presentation that reveals intriguing textural kinships. (Ólafsson considers the two composers "soulmates.")
This insightful pianist perceives relationships amongst the repertoire on various levels from which components of sonority, texture and polyphony are admirably distilled with interpretive command. The resulting (and likely intended) effect is of partial fusion and mutual application: the impressionist, painterly sonic canvases of Debussy begin to sound like Rameau's elegant, clean-lined character pieces of the High Baroque, and vice versa.
While this curatorial vision is appealing, the disc tends to resemble a recital program rather than a long-playing album. The live concert experience of such repertoire might be more compelling, even revelatory. At the recording's midpoint, the multidimensionality that Ólafsson seeks to convey devolves into two-dimensional space, bereft of varied access points. As we journey from Rameau to Debussy and back again, the programmatic permutations lose their lustre, a case in point for urging the differentiation of genre, i.e. The LP Album ≠ The Recital Program.
Adam Sherkin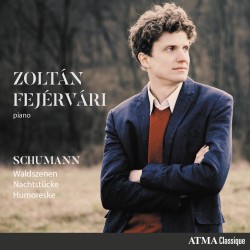 Schumann – Waldszenen; Nachtstücke; Humoreske
Zoltán Fejérvári
ATMA ACD2 2816 (atmaclassique.com/En/Albums/AlbumInfo.aspx?AlbumID=1648)
A perfectly considered new album from Hungarian pianist, Zoltán Fejérvári, presents three works by Robert Schumann in reverse chronological order: the Humoreske, Op.20, the Nachtstücke Op.23 (both written in 1839) and the later Waldszenen, Op.82 of 1849.
Recorded at Domain Forget's Salle de concert, this all-Schumann record features slightly offbeat choices from the composer's catalogue. But taking the road less travelled has paid off for Fejérvári, as he brings a unique sensibility to Schumann's music and dwells happily in the curious – at times unnerving(!) – realms of these three cycles.
One can, rather fancifully, divide the nine pieces of the Waldszenen into two groups: those that depict the natural world (i.e. the life of the forest and its nonhuman inhabitants) and those that do not (i.e. a hunter, an inn and a farewell). Fejérvári delivers a slight heft-of-hand in this playing, rather effective for those human narratives that require warmth and tonal weight; the more ephemeral music, (inspired by the woodland itself), urges a defter touch.
The latter two-thirds of the record are filled, quite simply, with beautiful music making. Fejérvári embraces Opp.23 and 20 with spirited imagination and stylistic aplomb. A personalized probing of material is balanced with refinement of sonic design and the mercurial nature of Schumann's art is coalesced for the listener with a favourably fresh approach that connects hallmark performance practice from the early Romantic piano with that of our present day.
Adam Sherkin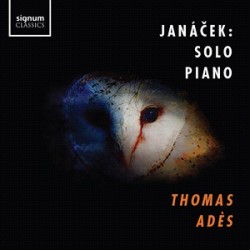 Janáček – Solo Piano Works
Thomas Adès
Signum Classics SIGCD600 (naxosdirect.com/items/janácek-solo-piano-works-531008)
The mighty Thomas Adès has long commanded almost any stage he graces with tireless innovation and a lion's share of good musical sense. Audiences have marvelled at his performative abilities (alongside his compositional skill) since the brink of his career and a recent disc from Signum Classics, featuring Adès in readings of piano music by Leoš Janáček, is no exception.
Janáček is, arguably, the archetypal composer's composer, celebrated for his singular musical voice as both a Slav and cosmopolitan craftsman of the 20th century. The strides made by this innovative Czech composer are inevitably admired today by those musicians and audiences in the know.
How fitting, then, for Adès to investigate the cornerstones of such a composer's piano repertoire and present his findings. In many respects, the two men have much in common: they have both sought out an individuality of expression through the musical tools of their own time. As such, their art greets the contemporary listener with an immediacy – recognizable in a way – but with a unique perspective possessing blindingly ingenious modes of construction.
From the first note of this record, comprising the 14 parts of On an Overgrown Path, the two-movement sonata From the Street and the four-part In the Mists, Adès lays bare his discoveries and convictions regarding Janáček's art. Despite the lone harsh-sounding fortissimo chord or the odd fuzzy trill, this is recommended listening for any music lover worth their salt. (The cover art too should be noted, certainly inspired by "The Barn Owl Has Not Flown Away!" from Series I of On an Overgrown Path.)
Adam Sherkin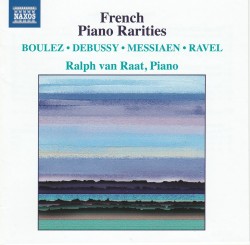 French Piano Rarities
Ralph van Raat
Naxos 8.573894 (naxosdirect.com/items/rare-french-piano-music-535795)
This fascinating disc opens with Debussy's shimmering first version (1915) of his Étude, Pour les arpèges composés, discovered in 1977 and published as Étude retrouvée. His last-known piano piece, Les Soirs illuminés par l'ardeur du charbon (1917, discovered in 2001), was an appreciative gift to his dependable wartime coal-supplier. In both substance and mood, it closely resembles his crepuscular Prélude No.4.
In 1944, the 19-year-old Pierre Boulez began studies with Olivier Messiaen. His 27-minute Prélude, Toccata et Scherzo from that year, here receiving its first recording, reflects Messiaen's influence with its gamelan-like percussiveness. The following year, his 12 Notations, most lasting under a minute, reveal Boulez newly embracing Webern's succinct serialism, introduced to him by another mentor, René Leibowitz. Boulez's last completed piano work, the four-minute Une Page d'éphéméride (2005), filled with abrupt outbursts, was composed as a piece for piano students.
Messiaen himself is represented by four selections. Morceau de lecture à vue (1934), written as a sight-reading exercise for his students, would later provide the Thème d'amour for his piano-masterpiece, Vingt regards sur l'Enfant-Jésus. Birdsongs of several different species saturate La fauvette passerinette (1961, discovered in 2012) and two movements for solo piano from Messiaen's monumental orchestral work Des canyons aux étoiles… (1974).
The CD ends with Ravel's exquisite, antique-sounding, one-minute-long Menuet in C-sharp Minor (1904). Each of these "rarities" merits greater exposure; Dutch pianist Ralph van Raat's richly-coloured performances enhance this disc's eminent recommendabilty.
Michael Schulman