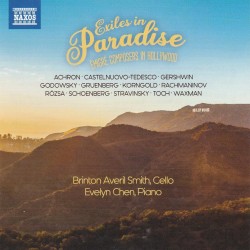 Exiles in Paradise – Émigré Composers in Hollywood
Brinton Averil Smith; Evelyn Chen
Naxos 8.579055 (naxosdirect.com/items/exiles-in-paradise-emigre-composers-in-hollywood-530833)
By the early 20th century, Los Angeles had become the centre of the nascent film industry, although at the time, the city was little more than orange groves punctuated with the Hollywood Dream Factory that would pull the world out of the Great Depression and through WW ll. With the evil rise of Eastern European anti-Semitism, numbers of brilliant, classical musical artists began flocking to La La Land with the idea of bringing their skills to the movies that were being churned out on a daily basis. These brave musicians planted their roots into the thin, sandy soil and began the painstaking process of bringing artistic culture to the Wild West.
With this exquisite release, magnificent pianist Evelyn Chen and equally magnificent cellist Brinton Averil Smith have created a project that celebrates these wonderful artists – many of whom directly contributed to the film industry. Included on the recording are interpretations of works by Sergei Rachmaninoff, Igor Stravinsky, Arnold Schoenberg, Miklós Rózsa, Franz Waxman and George Gershwin (born Jacob Gershowitz).
Stravinsky's hauntingly beautiful Berceuse (from The Firebird) is presented here by Chen and Smith with a deep, emotional undercurrent that informs their sumptuous performances, perfectly enhanced by their contemporary sensibilities. One of the most thrilling tracks is Night Owls – Fantastic Variations by Mario Castelnuovo-Tedesco, who, after fleeing Mussolini's Italy, scored over 200 films for MGM and taught a string of future film composers such as André Previn, Henry Mancini and John Williams. One can almost feel the kinesthetic, evocative, night-time Florence that the composer has created. Familiar to the listener will be Waxman's Carmen Fantasie (drawn from Bizet's opera) as well as Gershwin's It Ain't Necessarily So from his controversial, 1935 "Folk Opera" Porgy and Bess.