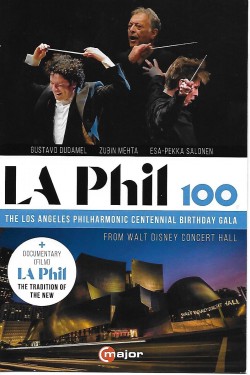 LA Phil 100
Los Angeles Philharmonic; Gustavo Dudamel; Zubin Mehta; Esa-Pekka Salonen
Cmajor (naxosdirect.com/items/la-phil-100-the-los-angeles-philharmonic-centennial-birthday-gala-534124)
The Los Angeles Philharmonic Orchestra was founded in 1919 by the millionaire and amateur musician William Andrews Clark Jr. who had the ambition and the funds to create best orchestra in the United States. One can only imagine the general excitement of the population at that time. Their first principal conductor was British-born Walter Henry Rothwell. Rothwell, a member of the musical elite, had connections, having been a member of the Vienna State Opera and had served as assistant to Gustav Mahler. Following Rothwell's death in 1927 he was succeeded by these eminent conductors: Georg Schnéevoigt 1927-29; Artur Rodzinski 1929-33; Otto Klemperer 1933-39; Alfred Wallenstein 1943-56; Eduard van Beinum 1956-59; Zubin Mehta 1962-78; Carlo Maria Giulini 1978-84; André Previn 1985-89; Essa-Pekka Salonen,1992-2009 and thence Gustavo Dudamel, who is the current music and artistic director. Mehta is the conductor emeritus and Salonen is the conductor laureate.
There are two DVDs. The Los Angeles Philharmonic Centennial Birthday Gala Concert was recorded live in the unique Walt Disney Concert Hall in October 2019. Zubin Mehta conducted the Prelude to Die Meistersinger and Ravel's La Valse. Essa Pekka-Salonen conducted Lutoslawski's Symphony No.4, and Dudamel offered a thrilling suite from The Firebird. Finally, a commissioned work by Daniel Bjarnason titled From Space I saw the Earth. For this atmospheric, mysterious, "outer-space" work the orchestra was divided into three, each with its own conductor, namely Dudamel, Salonen and Mehta.
The second disc is an informative documentary, with lots of interesting interviews and commentaries about the founding and the growth of the orchestra. The New York Times in 2017, just before the 100th Anniversary, headlined that "Los Angeles Has America's Most Important Orchestra. Period." This unique and most interesting package is testament to that.