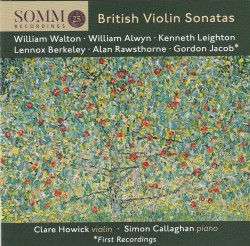 English violinist Clare Howick garnered rave reviews for her previous five CDs of violin music by British composers, and it's easy to hear why with her latest contribution to the genre, British Violin Sonatas with pianist Simon Callaghan (SOMM SOMMCD 0610 naxosdirect.com).
The six composers represented were exact contemporaries: Gordon Jacob (1895-1984); William Walton (1902-83); Lennox Berkeley (1903-89); Alan Rawsthorne (1905-71); William Alwyn (1905-85); and Kenneth Leighton (1929-88). Walton's Sonata and Alwyn's Sonatina are quite beautiful works which leave you wondering why they're not heard more often; Leighton's Sonata No.1 is another absolute gem.
The three short but delightful Jacob pieces – Elegy, Caprice and Little Dancer – are premiere recordings. Three more short but lovely pieces – Rawsthorne's Pierrette: Valse Caprice and Berkeley's Elegy Op.33 No.2 and Toccata Op.33 No.3 – complete an enthralling recital.
Howick plays with a gorgeous free-flowing rhapsodic strength and passion, matched by Callaghan in all respects. Superb recorded sound and balance, with a rich, deep and sonorous piano and full, warm violin add to a simply outstanding disc.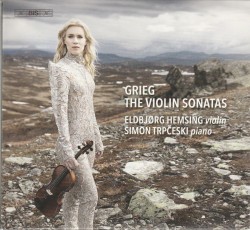 My sheet of notes for Grieg - The Violin Sonatas, the stunning Super Audio CD by Norwegian violinist Eldbjørg Hemsing and Macedonian pianist Simon Trpčeski (BIS-2456 naxosdirect.com) has one word at the top – "Wow!!" – that could easily suffice as the entire review.
It should come as no surprise that Hemsing has an innate affinity for the music of Norway's favourite musical son, but the high level of her interpretation here is still a real ear-opener, with big, spacious and expansive playing in the Sonatas No.1 in F Major Op.8, No.2 in G Major Op.13 and No.3 in C Minor Op.45. Trpčeski is a fine partner, clearly at one with Heming in all respects.
Heming's own solo violin composition Homecoming – Variations on a folk tune from Valdres – showcases a tune her great-great-grandfather sang that found its way into Grieg's solo piano Ballade Op.24. It's a brief tour de force that provides a fitting end to an outstanding CD.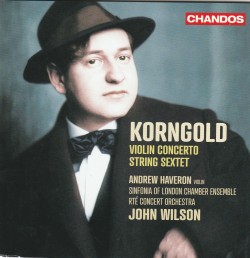 Erich Wolfgang Korngold was an astonishingly precocious and gifted musical talent, considered in his early years in Austria to be the greatest composer prodigy since Mozart. Evidence of his youthful abilities is paired with the most popular work from his later years in Hollywood on Korngold Violin Concerto & String Sextet with violinist Andrew Haveron, the RTÉ Concert Orchestra under John Wilson, and the Sinfonia of London Chamber Ensemble (Chandos CHAN 20135 naxosdirect.com).
Although fully revised in 1945, the concerto was actually drafted in 1937 before Korngold moved to America. Essentially reworking material from his 1930s Hollywood film scores, it's an unashamedly romantic work in sweeping cinematic style, and given a terrific performance by Haveron, whose lustrous tone combines brilliance and warmth in an immensely satisfying recording.
Haveron is also first violin in the Sextet, a remarkably impressive four-movement work written when Korngold was only 17. While there are shades of Brahms and hints of early Schoenberg, an eminent critic at the premiere wrote that Korngold's signature was unmistakeable from the very first bar.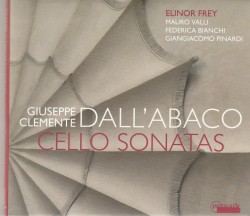 Cellist-composer Giuseppe Clemente Dall'Abaco (1710-1805) was esteemed throughout the major European musical centres, but while his unaccompanied 11 Caprices have been published his 35 accompanied sonatas remain virtually unknown. Five of them – the Sonatas in A Major ABV30, C Minor ABV32, D Minor ABV35, VII in C Major ABV18 and VIII in G Major ABV19, the latter usually incorrectly attributed to Sammartini – are featured on Dall'Abaco Cello Sonatas, a delightful CD from the Montreal-based cellist Elinor Frey, accompanied by Mauro Valli (cello), Federica Bianchi (harpsichord) and Giangiacomo Pinardi (archlute) (Passacaille 1069 passacaille.be).
The music is Italianate and full of sunlight and brilliance. In her excellent and extensive booklet notes, Frey comments on Dall'Abaco's experimenting with newly fashionable qualities that we now associate with galant or pre-classical music, and on the many characteristics which we identify with better-known cello music from later decades by the likes of Boccherini or Haydn.
It is indeed cello music that "remains fresh, audacious, alluring and often utterly beautiful," and is a significant contribution to the early cello repertoire. Frey's critical edition of the complete 35 cello sonatas of Dall'Abaco is due to be published by Edition Walhall this year.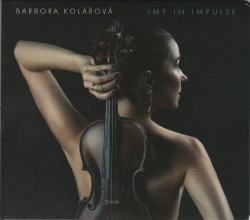 Imp in Impulse is the outstanding debut solo CD by the Czech violinist Barbora Kolářová. The title work was written for her by the American composer Pascal Le Boeuf and receives its premiere recording here, Jean Françaix's Theme with 8 Variations for Solo Violin and Klement Slavický's Partita for Solo Violin completing the disc (Furious Artisans FACD6822 furiousartisans.com).
Kolářová says that she loves searching for pieces that are generally unknown and unrecorded, and that speak to her artistically and emotionally; her desire to record these compositions and to be the first to share them with the world was the impetus for this CD.
Certainly all three works here have a great deal to offer, with the Slavický Partita particularly impressive. Kolářová plays with a remarkably strong, rich tone, terrific rhythmic drive and technical brilliance: you can watch her perform the title work on YouTube.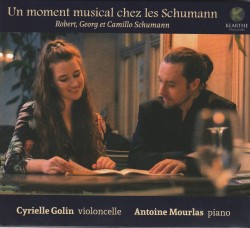 Only two of the three Schumanns featured on Un moment musical chez les Schumann, the new CD from cellist Cyrielle Golin and pianist Antoine Mourlas were related, but you'd never know it from the music (Klarthe K093 klarthe.com).
Robert Schumann's Fünf Stücke im Volkston Op.102 is paired with sonatas by the German brothers Georg and Camillo Schumann, both gifted organists, pianists, conductors and composers. From a compositional viewpoint their not being well known may be due to the traditional style of their relatively late works, as well as the overwhelming influence of Johannes Brahms which indirectly unites their sonatas with the Robert Schumann work.
The Sonata Op.19 by Georg Schumann (1866-1952) is from 1897; the Sonata No.1 Op.59 by his brother Camillo (1872-1946) from the even later date of 1905. Both are impressive three-movement works in the strongest German Romantic tradition – sweeping, passionate writing which is way above the merely competent.
Fine and resonant performances make for a fascinating CD.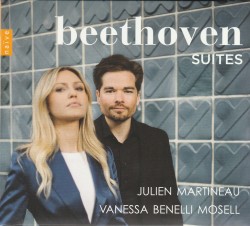 There's more than just Beethoven Suites on the new mandolin and piano CD from Julien Martineau and pianist Vanessa Benelli Mosell that features works either by Beethoven or inspired by his fondness for the erstwhile folk instrument (Naïve V7083 naxosdirect.com).
Beethoven is represented by four short works: the Adagio ma non troppo WoO43b; the two Sonatines in C Minor WoO43a and C Major WoO44a and the Andante con variazioni WoO44b. The Allegretto from Symphony No.7 is heard in a transcription by Hans Sitt.
The major work on the CD is by Beethoven's direct contemporary Johann Nepomuk Hummel – his Grande sonate Op.37a, rightly described as a masterpiece. Fritz Kreisler's Rondino on a Theme by Beethoven, an arrangement of Walter Murphy's pop hit A Fifth of Beethoven and Corentin Apparailly's Lettre à l'immortelle bien-aimée, written especially for this CD, complete the disc.
Martineau handles the technical challenges effortlessly and musically, with Mosell finding a nice balance between the original keyboard sound and the modern piano, never allowing the accompaniment to sound too heavy or overwhelming.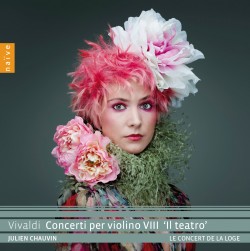 The remarkable Vivaldi Edition project created by musicologist Alberto Basso and the Naïve record label to record all 450 pieces in the collection of Vivaldi's own personal scores in the National Library in Turin reaches Volume 63 with Vivaldi Concerti per violino VIII 'Il teatro,' with the French violinist Julien Chauvin and Le Concert de la Loge, the ensemble he founded in 2015 (Naïve OP 30585 backl.ink/107881253).
There are six concertos here: in C Major RV187; B Minor RV387; D Minor RV235; D Major RV217; G Minor RV321; and B-flat Major RV366 "Il Carbonelli". All are in the Fast-Slow-Fast three-movement form established by Vivaldi, with the D major concerto a particular stand-out with its lovely slow movement and dazzling finale.
Chauvin provides impeccable solo playing, with a bright, resonant clarity supported by a strong continuo and bass in works that the booklet essay rightly notes exhibit clear links with Vivaldi's vocal music.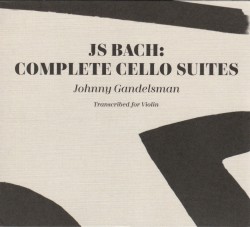 Silk Road violinist Johnny Gandelsman follows up his outstanding Sonatas & Partitas with JS BACH: COMPLETE CELLO SUITES Transcribed for Violin, including the first-ever recording of the Sixth Suite on a five-string violin (In A Circle Records ICR013 johnnygandelsman.com).
There's no booklet, so it's not clear exactly what Gandelsman means in the promo blurb quote: "In the violin pieces, I tried to follow the manuscript as much as I could. The cello suites feel different. What I see is an implication for infinite possibilities, the way an incredible improviser can find endless variation within the simplest form." Cellos are tuned an octave and a fifth lower than violins – CGDA as opposed to GDAE – and with the exception of the Suite No.6 in D Major the suites here are transposed to the corresponding violin string, e.g. from G major to D major, or from D minor to A minor. Other than that, it's difficult to discern any major changes without the benefit of a score.
Certainly Gandelsman brings the same effortless control and musicianship to these suites as he did to the Sonatas & Partitas, and once you get used to the much higher register and resulting lack of tonal depth it's a truly engrossing and enlightening journey.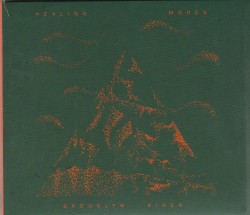 Gandelsman is also the first violinist in the string quartet Brooklyn Rider, whose new 2CD set Healing Modes pairs Beethoven's String Quartet No.15 in A Minor Op.132 with five short works written for the performers in an exploration of the power of music to heal body, mind and spirit (In A Circle Records IRC014 brooklynrider.com).
The lengthy central Adagio molto – Andante of Beethoven's quartet reflected a period when he was recovering from a serious intestinal infection, and the new works address topics ranging from personal illness through mental health to current social issues. Compositions by Matana Roberts, Reena Esmail, Gabriela Lena Frank, Du Yun and Caroline Shaw are placed around and between the first three of the five Beethoven movements, which tends to weaken the impact of the latter without notably adding to that of the new works.
How successful you feel this is will probably depend to a large extent on how comfortable you are with contemporary string works and their juxtaposition with traditional, albeit forward-looking masterpieces.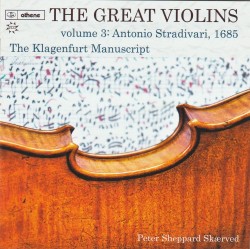 Violinist Peter Sheppard Skærved continues his fascinating series The Great Violins with the 2CD Volume 3: Antonio Stradivari, 1685 – The Klagenfurt Manuscript (athene ath23206 naxosdirect.com).
The manuscript, which also dates from the mid-1680s was found in a Carinthian convent, and Skærved offers the opinion that the anonymous composer was probably one of the nuns or lay sisters. All 96 movements for solo violin are recorded here, the overwhelming majority of them only between one and two minutes in length. An astonishing 51 involve any one of six scordaturas – retuning of the strings – although it's difficult to identify the resulting "striking changes in colour and timbre" that Skærved references in his extensive and extraordinarily detailed booklet essay that explores every possible aspect of the challenges and possibilities that he encountered in the project.
It's a record of a quite remarkable personal journey of discovery, and while not a set for the casual listener, it's an absolute mine of information for anyone interested in the violin music of the period.