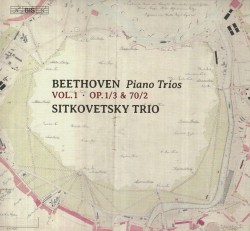 Beethoven – Piano Trios Vol.1
Sitkovetsky Trio
BIS BIS-2239 SACD (naxosdirect.com)
This year marks the 250th anniversary of Beethoven's birth date and as such it has been bringing in an assortment of new releases of the great master's works. The Sitkovetsky Trio attracts attention with their elegant interpretations of carefully selected Beethoven piano trios and the creation of a particular sound that is very much their own. I was charmed by the lovely blend of the instrumental colours and the finely detailed and thoughtful work that went into directing and following the tides of these notable compositions.
The wisely chosen progression of the trios includes the early Op.1 No.3 in C Minor, middle period Op.70 No.2 in E-flat Major and the late Allegretto in B-flat Major Wo039. C minor could certainly have been Beethoven's favourite key because it allowed for the storminess of emotions like no other. It is hard to believe that this work belongs to such an early opus as it brings in radical and innovative approaches to the chamber music of that time. The E-flat Major Trio and Allegretto show, in contrast, that Beethoven was just as much attuned to pastoral and peaceful settings and that he was unapologetically paving the way for the further development of the Romantic elements.
Much appreciated is the Sitkovetsky Trio's ability to stay within the bounds of traditional chamber music-making while adding the intensity and vitality of their own understanding. A noble companion to contemplative times.