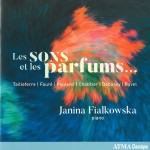 Les sons et les parfums
Janina Fialkowska
ATMA ACD2 2766 (naxosdirect.com)
Janina Fialkowska's latest offering is absolutely enchanting, a CD of "pure nostalgia" for the acclaimed Canadian pianist, as she states in her eloquent liner notes for Les sons et les parfums (the sounds and the fragrances).
Fialkowska transports us to the Paris of the 1950s and 1960s, when, as a youth, she visited the French capital; a time when Les Six members Francis Poulenc and Germaine Tailleferre were dominant forces on the French music scene. And, as Fialkowska tells us, a time when most of the older musicians with whom she came in contact during those visits, knew not only those noted composers, but also Ravel, Debussy and Fauré. One further fun fact: her piano teacher in Paris in the mid-60s, Yvonne Lefébure, actually worked on the two Ravel pieces featured on the CD with Ravel himself! Can anyone imagine a headier environment for one's musical studies?
Fialkowska's "love letter to Paris" includes works by all of the above-mentioned composers, as well as Emmanuel Chabrier. From Tailleferre's charming and shimmery Impromptu, Fauré's sensuously evocative Nocturne in E-flat Major Op.36, and Poulenc's sparkling Intermezzo in A-flat Major FP118 with its sense of yearning, to Debussy's beloved and beyond-beautiful Clair de Lune and the stunning, virtuosic and impressionistic pleasures of Ravel's Jeux d'eau and Sonatine, Fialkowska indeed captures les sons et les parfums of a bygone Paris. It is there in the characteristic nuance, warmth, commanding musicianship, delight and dignity of her performance, which is nothing short of ravishing.
Sharna Searle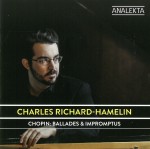 Chopin – Ballades & Impromptus
Charles Richard-Hamelin
Analekta AN 2 9145 (analekta.com)
The quietly heroic Canadian pianist, Charles Richard-Hamelin, has just released a record – his fifth on the Analekta label – of Frédéric Chopin's most expressive and inspired music: the four Ballades, (presented in chronological order) and the three Impromptus, followed by the Fantaisie-Impromptu.
Audiences the world over have heartened to Richard-Hamelin's extraordinary talent, a talent without self-indulgence, wholly in service of musical candour on the highest order. It is this very quality, (amongst flawless technique, lyrical sensitivity, inspired voicing and impeccable stylistic command), that makes Richard-Hamelin so unique in today's individualistic, ego-crazed culture. The pianist brings a poetic integrity to his music-making, born of a sincerity that is both reassuring and human. His craft calls on the objective – not the subjective – to aid him in his quest for beauty, awakening virtue and aesthetic perfection at every musical turn.
In these hands, not one of Chopin's phrases, chords or moments of pause are left unconsidered or unloved. Richard-Hamelin intimately knows every last fibre of the musical canvas, from first note to last; a marvel of integral conception. It is like watching a skilled and seasoned painter in action, as he places every brush stroke – every swirl and point – with absolute care and expertise. Richard-Hamelin is redesigning this loved (and oft-performed) music, entirely afresh. Each cherished musical moment is revealed to be uniformly exquisite, and the listener is spellbound. Charles Richard-Hamelin is an artist of this rare Earth, singing of its myriad wonders.
Adam Sherkin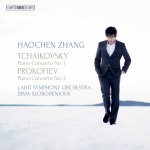 Tchaikovsky – Piano Concerto No.1; Prokofiev – Piano Concerto No.2
Haochen Zhang; Lahti Symphony Orchestra; Dima Slobodeniouk
BIS BIS-2381 SACD (bis.se)
At just 29 years old, Chinese pianist Haochen Zhang ably demonstrates his coupling of a virtuoso approach with a mature and nuanced sensitivity of musical interpretation on this 2019 BIS recording, featuring the Lahti Symphony Orchestra under the measured direction of Dima Slobodeniouk. Traversing two alpine works – Pyotr Ilyich Tchaikovsky's Piano Concerto No.1 and Sergei Prokofiev's Piano Concerto No.2 – Zhang evidences considerable musical acumen in his handling of this well-known (and widely recorded and performed) music of these Russian masters, highlighting the embedded Romantic gestures, as well as rising to the stentorian musical challenges put forward by these mighty and canonical composers.
Dynamics are clearly on display as the pianist takes the listener on a wild ride. This 19th- and 20th-century music is both rigorous and demanding on pianists (Prokofiev was himself a touring and creative pianist), and Zhang, a former child prodigy who won the 2009 Cliburn Competition, demonstrates that he still has the breathtaking and wide-ranging technique that initially captured audience attention when he was still a boy. But now he evidences a coalescing musical maturity that is bound to excite today's classical musical listeners not only for what is captured here, but also for what is in store for Zhang on future recordings and concertizing opportunities. Overall, a recommended addition to one's CD collection.
Andrew Scott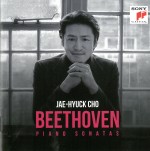 Beethoven – Piano Sonatas Nos.8, 21, 23
Jae-Hyuck Cho
Sony S803556 (jaehyuckcho.com/recording)
Pianist Jae-Hyuck Cho is a well-established international recitalist and a classical music radio presenter in Korea. This CD of three much-recorded Beethoven sonatas – the C minor "Pathétique," C Major "Waldstein" and F minor "Appassionata" – is justified by its excellent playing and sound engineering. In the Pathétique Cho's tonal control is exceptional, from the introduction's sonorities onwards, featuring finely graded crescendos. In the Adagio, expression is fine and intimate, while the Rondo builds and does not overwhelm. No banging in this Beethoven, or in the following Waldstein Sonata. Here, with melody mostly reduced to brief motifs in the first movement, a wealth of harmonic interest, plus the raw energy of pulses and tremolando chords, carry the movement forward. Cho achieves this task, and then shows an atmospheric side to his playing in the heartfelt introduction to the Rondo. Adhering mostly to Beethoven's blurring pedal markings and extended trills, raising the contrast level through effective accentuation in the episodes, and managing the coda's octave glissandos well, the end result is stellar.
The Appassionata Sonata is a little overwhelming in Cho`s reading. Admittedly this sometimes aggressive work is not my favourite Beethoven – one is likely to bang and I don`t begrudge Cho`s becoming emphatic at times. With mostly controlled and clean playing here, there is much for devotees to admire. The CD adds an unlisted bonus encore: a finely-realized Liszt transcription of Schumann's Widmung S566.
Roger Knox
Beethoven; Liszt; Chopin
ChangYong Shin
Steinway & Sons 30115 (steinway.com/music-and-artists/label)
Young Korean Pianist ChangYong Shin has won several important awards including the 2018 Gina Bachauer International Artist Piano Competition. I found this pianist reticent at first. His Beethoven Sonata in E Major, Op.109 is technically secure throughout, but more colour and expression would have been welcome for Beethoven's quasi-improvisational mode. There are great heights and depths in this work that may require risk-taking. Nevertheless, Shin handles the finale's fugal section and the theme's return with extended trills particularly well.
For me Franz Liszt's Bénédiction du Dieu dans la solitude from the cycle Harmonies poétiques et religieuses, (1847) conveys a genuinely religious sense in the way the piece unfolds. Shin is flawless with the opening's rustling background and the rich ventures into the bass register, and also in the subsequent dramatic harmony and varied figuration. He confidently paces the balance of the work well, including in the closing section where it is mainly rolled chords that support the pensive upper line. By the end, peace and calm have stilled the emotions of earlier sections.
Of the disc's three Chopin waltzes I particularly enjoyed Op.42, informally known as the 2/4 "waltz" because of the melody's cross rhythm against the triple-time bass. Shin is high-spirited here, pedalling lightly, creating a whirl with accents and rubato, and achieving a bravura ending. The brilliant Waltz in E-flat Major, Op.18 and Waltz in A-flat Major, Op.34, No.1 add to the lustre of a splendid CD.
Roger Knox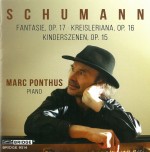 Schumann – Fantasie Op.17; Kreisleriana; Kinderszenen
Marc Ponthus
Bridge Records 9514 (bridgerecords.com)
This disc of three contemporaneous Schumann works played by Marc Ponthus is revelatory. Known for major recitals of monumental works, Ponthus here offers technical brilliance with exquisite control of dynamics, voicing, and pedalling. Of the Fantasie (1836-8) his insightful program notes observe "a realm larger than reason"; in the first movement "a constantly fluctuating and forward energy" with vitalizing changes of texture. The finale becomes "an unfinished extension of the magnificent formal ruins of the first movement." A large-scale, visionary Romantic masterpiece grounded in non-classical principles, then played with seamless continuity and fascinating detail. Using a modern piano, Ponthus adds tasteful speeding up as is now practised (controversially for some) in Romantic-era tempo modification.
With Kreisleriana (1838) Ponthus' tempo modification becomes more prominent, in keeping with the eccentric fictional persona of Kreisler and perhaps the personalities of both writer E.T.A. Hoffmann and Schumann. But I find the lyricism of the middle section of Kreisleriana's first piece spoiled by excessive speed; better for the player to be guided by the section's phrase extensions and key changes. The slow pieces come off best and the fourth one for me is introspection defined. As for Kinderszenen (1838), scenes of childhood for adults, Ponthus's idiomatic readings themselves justify purchasing the CD. These reflective miniatures are a wonderful introduction to Schumann's piano music for anyone; no wonder Horowitz played No. 7 (Träumerei) as an encore so frequently.
Roger Knox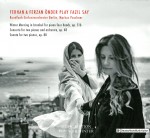 Ferhan & Ferzan Önder Play Fazil Say
Ferhan & Ferzan Önder; RSO Berlin; Markus Paschner
Winter and Winter 910 255-2 (winterandwinter.com)
The duo piano approach of the Turkish-born Austrian twins Ferhan and Ferzan Önder comes together on this 2019 Winter & Winter recording to mine the many musical gems found in the music of contemporary Turkish composer Fazil Say. Although, unfortunately, Say has been plagued by political persecution in recent years – sentenced to jail time in 2013 for tweets that were considered "blasphemous" by the Turkish government – the now 49-year-old composer and pianist himself, has remained prolific and artistically relevant, writing challenging new pianistic and symphonic work, which is taken on here with class and aplomb by the Önder sisters with sweeping accompaniment from the Berlin Radio Symphony. Difficult to categorize stylistically – Say combines a historically rigorous mastery of Western art-music traditions, with influence taken from Turkish folk music, jazz and chance or improvisatory elements – the composer has assembled a hauntingly beautiful and unusual musical world that the talented Önder sisters tackle with virtuosity, expertise and their own recognizable musical agency.
Notable is the Sonata for Two Pianos, commissioned by the Louis Vuitton Foundation, which premiered earlier this year. Here, the sisters explore the range and expressive depth of the four-hand-piano tradition in order to bring to life this beautiful and challenging work that prods listeners to confront their own expectations of what constitutes contemporary classical performance in 2019 and to rethink what remains possible within the codified three-part sonata form employed here. Both the music of Say, and the nuanced playing of the Önder sisters, was new to me prior to receiving this recording. I am pleased to musically get to know these important and, very much of this moment, global artists.
Andrew Scott