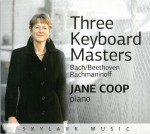 Three Keyboard Masters – Bach; Beethoven; Rachmaninoff
Jane Coop
Skylark Music Sky1901 (skylark-music.com)
Veteran pianist Jane Coop brings three composers into focus on her new fall release: Beethoven, Rachmaninoff and Bach. While the aggregate of the music on disc is indeed a favourable one, the record as a whole tends to play more as a recital program than as an album. Coop's musical conviction and integrity merits discussion of each component, singly:
Her choice to record the seven jejune Bagatelles Op.33 of Beethoven is a fruitful one. Coop brings a childlike exuberance to this music, augmented by just the right dash of buffoonery. She achieves an essentially scherzando quality, from which the personal side of Beethoven's art can gleam. Coop has a zeal for these pieces, expert in the Canadian tradition of Beethoven pianism inherited from her teacher, the great Anton Kuerti.
In drastic juxtaposition, a set by Sergei Rachmaninoff plunges in next. Despite the extreme textural disparity between Rachmaninoff's preludes and Beethoven's bagatelles, Coop seems easily at home in the vaulting halls of Russian Romanticism. One hears an icy, almost Gouldian austerity. Punctuating the preludes are lesser-known transcriptions by Rachmaninoff, penned late in the composer's life and intended for his own concert tours.
Finally, Bach's Chromatic Fantasy and Fugue brings a sense of homecoming. One has the suspicion that each of these pieces has been well-worn and well-loved by Coop; this is music she's held dear for a long time. How generous of her then, to share it with us.
Adam Sherkin
Mozart – Piano Sonatas Nos.2, 3, 8 & 13
Lars Vogt
Ondine ODE 1318-2 (naxos.com)
The newest disc from the 40-something pianist, conductor and educator, Lars Vogt, delivers refined and compelling readings of four Mozart piano sonatas. The range of curation here is admirable, as is the enticing (and thoroughly considered) nature of Vogt's interpretation. We meet an accomplished and intellectually curious artist at the height of mid-career prowess.
To open such an album with Mozart's early Sonata in F major, K280 is an unusual choice, yet a convincing one. Where Vogt overrides status quo classical sensibilities with modern expressive concepts (cf. the A minor Sonata, K310), he manages to steer us aptly to the brink and then back again with just enough mastery to re-charm us under his pianistic spell. It takes some level of courage to play Mozart like this. Notwithstanding, it seems more acceptable today for a performer to stretch such boundaries and take small yet consequential risks, finding novel paths through well-trodden music.
Among the disc's notable attributes are its polish and poise. Vogt renders Mozart's familiar notes with both a wide-eyed curiosity, (as if hearing it all for the first time) and a learned interpretive command that is exceedingly well informed (the second movement of the Sonata in B-flat Major, K333, Andante cantabile, is one such example.)
If anything is amiss, it is a reluctance to take these convictions and whims even further: to pilot the listener beyond the brink, as it were, to the very heart of Mozartian spontaneity.
Adam Sherkin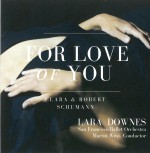 Clara and Robert Schumann – For the Love of You
Lara Downes; San Francisco Ballet Orchesra; Martin West
Flipside Music (laradownes.com)
American pianist Lara Downes offers a new release honouring the 200th anniversary of Clara Wieck Schumann's birth on September 13, 2019. For the occasion, Downes allies with the San Francisco Ballet Orchestra, opening the disc with Robert Schumann's Piano Concerto in A Minor, Op.54. The proceeding tracks feature pieces for solo piano – Op.11 by Clara and Op.12 by Robert, dating from "the last three tumultuous and decisive years of courtship, before their marriage."
Known for her lush and generous playing, Downes brings her customary warmth to bear as concerto soloist. Equally rivalling the orchestra's might, she appears to revel in the quintessentially Romantic currents, inspired as they ebb and flow through the only concerto Schumann ever finished for the instrument. At times, Downes' tonal command borders on a pianistic muscularity – an attractive commingling of classical training with a popularized understanding of music's communicative shtick in the 21st century. She urges the listener to feel at ease: to embrace the brand of hospitality issued from her keyboard.
Aside from the utterly standard repertoire selections (Schumann's Opp.54 and 12), the Three Romances, Op.11 by Clara bring a fresh and personal stamp to the record. It sounds as if Downes is just getting started with Clara's catalogue. Surely, in 2019, this music can now stand alone, apart from Robert, and declare itself? Many accomplished proponents of Clara's Wieck Schumann's music are active today; Downes should consider joining this consortium, full time!
Adam Sherkin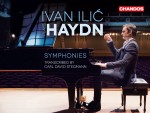 Haydn Symphonies transcribed by Carl David Stegmann
Ivan Ilić
Chandos 2020142 (chandos.net)
Here we are in for a treat. Noted Serbian-American pianist Ivan Ilić, who has already made a reputation for adventurous repertoire and has never shied away from detective work, is now unearthing century-old music found in a dusty box in someone's attic in Cologne, Germany: actually the discovery of three Haydn symphonies transcribed for the piano dating back to 1811 by Carl David Stegmann, a musician and contemporary of Beethoven. These things can happen: after all, Schubert's Great C Major Symphony was also found in an attic by a certain Felix Mendelssohn!
Well, Ilić immediately tried them out and they sounded terrific on the piano, so he subsequently recorded them. First and foremost is the famous Oxford Symphony No.92, one of the late ones written just prior to the London Symphonies and it is a wonderful mature work. Right at the outset we are struck by the pianist's enthusiastic and joyful approach, a feeling of discovery, grasping the essence of Haydn and his sense of humour. With immaculate, highly precise pianism he emphasizes the clear melodic line and delves fearlessly with his strong left hand into the complex architecture of the contrapuntal middle part. By this time the piano literally sings, and how charming that little closing subject sounds!
I was also delighted by the horn imitation in the trio part of the third movement Menuetto and the terrific freewheeling bravura of the complex yet irresistibly melodic last movement. Symphony No.75 is notable for its second movement's interesting set of variations showing Italian influences while Symphony No.44 (Mourning) has an astounding last movement Presto, a hot-headed and determinedly monothematic score" Ilić even features in a video on YouTube.
Janos Gardonyi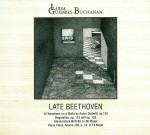 Late Beethoven
Luisa Guembes-Buchanan
Del Aguila Records DA 55313(luisagbuchanan.com)
Late Beethoven such as the Bagatelles, Op.119 and the Diabelli Variations Op.120 appear to have arrived in music's world not in a dimming of the light that comes at the end of life, but like an immeasurable future; an unimaginable time beyond time. Certainly the immortal Variations, all 33 of them, coming as they did on the heels of the great Goldberg Variations of J.S. Bach, heralded a Beethoven whose creative urge seemed to have swelled like a kind of historical floodwater, bearing Anton Diabelli's prosaic waltz upon its crest.
Luisa Guembes-Buchanan's recording of the Diabelli is a classic, as free flowing as Beethoven's approach to the variation form. Her playing is muscular, yet supple, accentuating the integrity of each variation without sacrificing the sense of overall structure. That all-important final chord is like a goal reached at the end of a long, long journey.
The pianist's approach to the Bagatelles – among the best-known of Beethoven's shorter pieces – is a refreshingly matter-of-fact manner, bringing out the vigour and the fluidity of the pieces but not at the expense of their poetry. Her Fifth Bagatelle is pointedly unsentimental, but most exquisitely and artfully shaped.
Theodor Adorno saw late Beethoven works as profound meditations – partly conscious, perhaps – on death. But he admits that "death is imposed only on created beings, not on works of art…" which might explain the immortal nature of these late works, living fragments of life's beauty.
Raul da Gama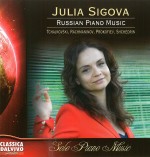 Russian Piano Music
Julia Sigova
Classica Dalvivo CDL-0518 (juliasigova.com)
As surprising as it may seem, collections of Russian solo piano music on CD are not all that common and when they do appear, they are likely to feature the works of only one or two composers with a similar compositional style. As a result, this recording by pianist Julia Sigova on the Classica Dalvivo label is a welcome addition to the catalogue. Not only did this Minsk-born artist choose four different composers, but ones spanning an 80-year time period – from the Romanticism of Tchaikovsky and Rachmaninoff to the more austere modernism of Prokofiev and Shchedrin.
Today, Tchaikovsky is scarcely remembered for his contribution to the piano repertoire, but his keyboard compositions are still not without their charm as evidenced in the opening track Dumka Op.59 from the set titled Scenes from a Russian Village written in 1886. Sigova's approach is elegant and self-assured, with just the right touch of melancholia that characterizes much of Tchaikovsky's music.
Rachmaninov's first set of Études-Tableaux Op.33 were supposedly written as "musical evocations of external stimuli" although he never really divulged their true inspiration. These are a remarkable study in contrasts – from the pensive seriousness of the Second to the bombastic fervour of the Seventh. In all, they require a formidable technique, and Sigova rises to the demands with much bravado.
Compared to the lush romanticism of Rachmaninoff, the Sarcasmes Op.17 of Sergei Prokofiev and two pieces – Humoresque and A la Albeniz – by Rodion Shchedrin are very much products of the later 20th century. Here, Prokofiev almost seemed to be thumbing his nose at the more conservative musical conventions of the time while the two miniatures by Shchedrin – with their jaunty rhythms and progressive harmonies – round out an eclectic and very satisfying program.
Richard Haskell